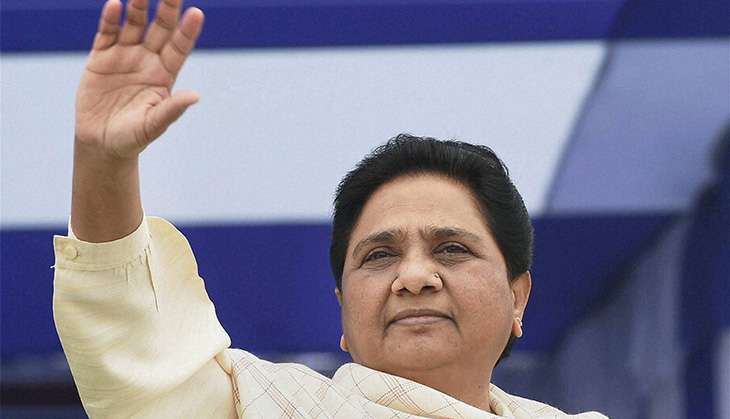 BSP chief Mayawati today cautioned voters that neither an SP-Congress alliance nor a united SP can check BJP and that only her party would render a crushing blow to Modi government by defeating the saffron party in UP so that it does not take "immature" steps like the note ban.
"The coming elections will be very important in many respects ... if BSP comes to power with full majority in UP then it will check BJP and the central government to some extent from taking decisions like note ban and SP's goonda and jungle raj will be wiped out from the state," Mayawati told newspersons on her 61st birthday.
"BSP is the only party which can stop the march of BJP in the state ... its government in the state will render a big blow to the BJP and it will not return to power at the Centre easily ... it will not dare take anti-people decisions," she said.
Amid talks of a possible tie up between SP and Congress, the BSP president made it clear that her party will go alone in the polls.
"We will fight the elections on our own, there will be no alliances," she said.
UP electorate will have to be vigilant from the antics and allurements in manifestos of the political rivals and tacit understanding of opponents, she cautioned.
The BSP chief who celebrated her birthday this time without usual fanfare in view of the model code of conduct being in force in the state, also lashed out at the alleged goondaraj under the Akhilesh Yadav government.
"SP is widely known as a party of one family, region and a particular caste ... since the beginning jungle raj has been prevailing here but it has to be seen that SP and Congress are now seeking votes in the name of such a tainted face, that is, Akhilesh Yadav of SP government," she said.
"The people of the state have to decide whether they have to make such a tainted face as the chief minister of the state under whom Muzaffarnagar, Dadri, Mathura and Bulandshahr incidents took place ... or they will vote the clean face of BSP on whose coming to power all communal and goonda elements either flee from the state or run for cover," she asserted.
She said neither SP-Congress alliance nor a united SP will be able to check BJP and voting for them will directly benefit BJP.
Commenting on Mayawati's remarks, BJP General Secretary Vijay Bahadur Pathak said her comments "full of desperation and hopelessness" make it clear that she has acknowledged BJP is coming to power.
--PTI