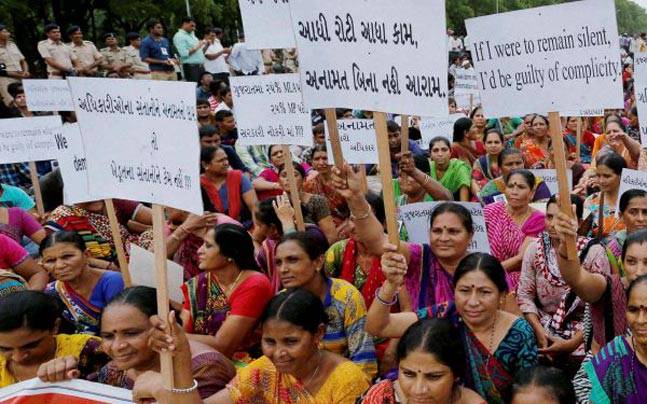 Brahmins in Gujarat have mounted pressure on the Gujarat government by seeking reservation in education and jobs for their economically weaker members. The community members have also threatened to launch a statewide agitation if their demands are not met.
After holding meeting with the representatives of 400 sub-castes of the community, the All Gujarat Brahm Samaj has prepared an agenda of their demands, which includes reservation to economically weaker members. Their other demands include setting up of a board to look after economically weaker Brahmins, reservation to Brahmin students in education sector among others.
"Because of the current reservation system, Brahmins have suffered a lot and are left behind others. Reservation system was meant only for some years after we gained independence. But, politicians continued this system till today to secure their vote banks. This has to come to an end now," Brahm Samaj president Shailesh Joshi told reporters at a press conference here.
Joshi said the community did not want a specific quota as such as is the case with Patels who have sought reservation under OBC quota. He said their body wants government to grant reservations to any community solely on the criterion of economic condition in future. "Thus, we want the government to change this system and introduce a system which is based on economic condition, not on castes. We believe that anyone who is financially weak should get reservation, including Brahmins. Our children could not get good education or jobs just because of the current reservation system," said Joshi.
He demanded that government should give salary to Brahmin priests serving in Shiva temples. "Tamil Nadu government gives monthly salary of Rs 2500 to all the priests serving in Shiva temples. There are 3800 Shiva temples in Gujarat. We want the Gujarat government to give similar salaries to all the priests serving in these temples," he said.
According to him, there are 62 lakh Brahmins in the state. "We are not pursuing this issue very aggressively at present. But, we want to tell the government that if our demands are not met, we will hold rallies and protests across the state and intensify our agitation if need arises. We have also planned to send 51,000 postcards to the President of India," said Joshi.
Joshi said they will put forward their demand before the state government which has formed a seven-member committee of ministers to take representations of communities agitating on the issue. "Earlier, we were invited to hold talks on August 17. But, we declined the offer as we have not prepared our agenda. Now, we are ready with our agenda. We are now waiting for their (government's) official invitation now," he said.
Joshi also extended support to Patel community, which has been aggressively holding rallies demanding reservation and prompted other communities, such as Brahmins and Kshatriyas, to do so. "We extend our support to the mega rally of Patels, proposed to be organised at Riverfront here on August 25. People from our community from across the state would join them (Patels) at the rally," he added.
-PTI