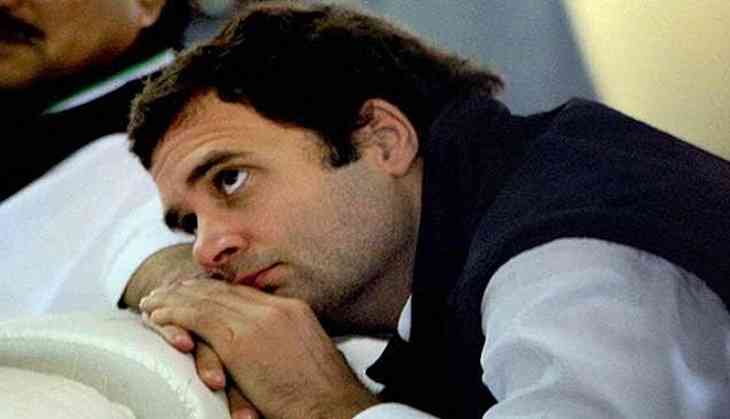 Congress President Rahul Gandhi
Congress President Rahul Gandhi never left any chance to attack Prime Minister Narendra Modi and his party BJP. Recently, Rahul Gandi at Talkatora Stadium at Delhi has announced its campaign 'Save the Constitution' and attacked PM Modi for various reason.
Rahul even said that Modi has only interest in PM seat only. We have seen many times that Rahul's speech in the various events created trouble for him either his 'fata hua kurta' or for his fumble during this speeches.
Recently, BJP also took a dig at Rahul Gandhi and trolled him for his fumbling speeches in the Lok Sabha.
The BJP has trolled Rahul on the micro-blogging site by sharing his fumbling videos. The tweet went viral over the internet and it has been retweeted 1600 times and liked over 3000 times within two hours. The video of Congress President also captioned by the party and wrote, 'Rahul ji, we all want you to speak in Parliament... How can we let go off such fun!'
Here's the viral video of Rahul Gandhi:
Rahul ji, we all want you to speak in Parliament... How can we let go off such fun! pic.twitter.com/HQyc3IfETX

— BJP (@BJP4India) April 24, 2018
Rahul Gandhi was also trolled by the Karnataka unit of the BJP. They had shared a cartoon image in which Rahul unable to pronounce the names of Karnataka's famous personalities.
After Rahul Gandhi got the fifteen minutes he asked for! 😅 pic.twitter.com/pGdHmsxa9w

— BJP Karnataka (@BJP4Karnataka) April 24, 2018
The cartoon was created by taking the reference from the BJP MP Rajeev Chandrashekar which was shared last month. In the video, Rahul was not able to take the name of Sir M Visvesvaraya, a Bharat Ratna recipient during his Karnataka election rally.
So the leader of the party that aftr 5 years of corrupt govt - is now claiming to build a #NavaKarnataka doesnt know about the great son of #Karnataka n #BharatRatna #SirMVishvesvaraya ! 😅😢@BJP4Karnataka #KarnatakaElection2018 pic.twitter.com/FkS1pNADwD

— Rajeev Chandrasekhar (@rajeev_mp) March 26, 2018
Well, Visvesvaraya was not the only one whose name was mispronounced by Rahul in that speech, he had also unable to take the name of Krishnaraja Wodeyar.
Also report: Congress President Rahul Gandhi launches 'save the constitution' campaign; says the new slogan for the PM Modi government should be 'BJP Se Beti Bachao'