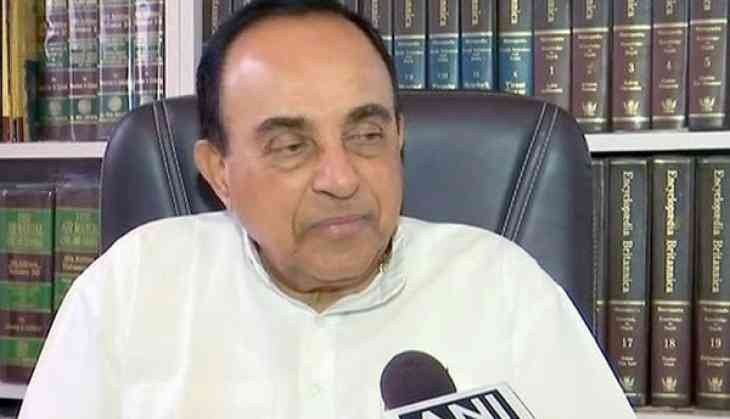 Congress MP Shashi Tharoor has initiated another controversy when during a fest he said that no good Hindu would want a temple at the site of the Babri Masjid in Ayodhya.
14 days before the Supreme Court will begin its hearing on the Ayodhya-Ram Mandir issue, the chapter in itself has come under the talk of the town. Now, senior BJP leader and MP Subramanian Swamy has raised concerns over Tharoor's remarks.
Subramanian Swamy replied to Shashi Tharoor's remark stating that "Wo neech aadmi hai" and he already has cases against him, he is named in a chargesheet as well. Swmay said "There is a charge-sheet against him, what can we say on the statement of such a person."
Earlier, Congress leader Shashi Tharoor in a Literature Festival had said that "On the Ram Janmabhoomi, as a Hindu, I am very conscious that a vast majority of my fellow Hindus believe that was the specific birthplace of Ram. And for that reason, most good Hindus would want to see a Ram temple at the site where Ram was supposed to be born."
Tharoor later on added that "But I also believe that no good Hindu would have wanted to see that temple built by demolishing somebody else's place of worship."
There is a charge-sheet against him, what can we say on the statement of such a person. Woh neech aadmi hai: Subramanian Swamy on Congress leader Shashi Tharoor's statement "no good Hindu would want a temple at Babri masjid site by demolishing somebody else's place of worship" pic.twitter.com/U82Usvv1Cz

— ANI (@ANI) October 15, 2018
Another Congress leader and MP Jyotiraditya Scindia, while addressing a rally recently, said that "they claim that they will build the Ram temple, but will never tell when. They say Mother Sita is upset. She is upset with the work of the BJP because they have exploited her husband's name for their benefit."
Also read: Rahul Gandhi accuses PM Modi of shielding rape accused BJP MLA; says, 'Beti Padhao aur Beti ko BJP ke MLA