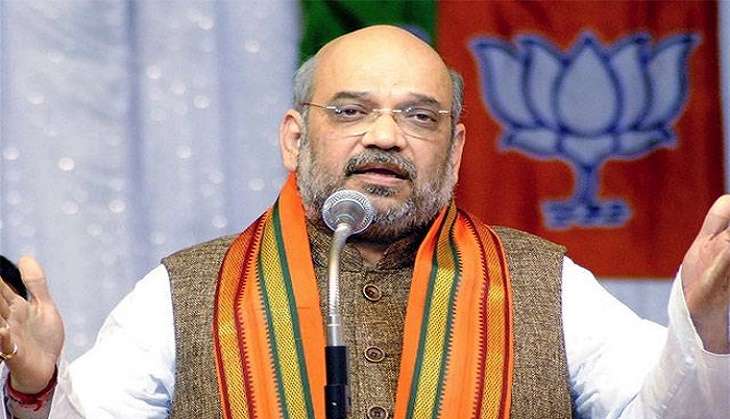 Attacking the Samajwadi Party government over recent incidents in Mathura and Kairana in Uttar Pradesh, which goes to polls early next year, BJP President Amit Shah today said the prevailing "atmosphere of violence" in the state is a matter of serious concern.
"The present Samajwadi government, each day is expressing its helplessness in dealing with these situations," Shah said while citing recent clashes in Mathura as also violence in Kairana and subsequent migration of over 100 families.
Launching a frontal attack on the Akhilesh Yadav government, Shah told the two-day BJP National Executive which began in Allahabad today that "the lack of development and the lack of governance in the biggest state of India i.e UP is increasing becoming a matter of serious concern".
On the recent incidents in Mathura, Shah said that this politics of forcefully grabbing government land with "patronage" was "very unfortunate."Shah also referred to the alleged migration of a community from the western UP town of Kairana and said that it is a matter of deep concern.With the entire party leadership, including Prime Minister Narendra Modi, present, he also trained guns on the Congress, saying it is "increasingly weakening" and its "atrophy is growing at an alarming pace due to its policy of repeatedly obstructing the government's path to development" in the last two years.The BJP President called upon the party workers to work hard and expressed commitment that BJP will form government in UP with full majority after the assembly polls.He said 2017 is a year of challenges in which besides UP, there are polls in Uttarakhand, Punjab, Gujarat and Himachal Pradesh. He also expressed confidence that the party will return to power in the Centre in 2019 as well.Briefing reporters about Shah's speech, Union Minister Ravi Shankar Prasad said the National Executive will not name any chief ministerial candidate for the UP polls, noting that such a decision can be taken only by the party's Parliamentary Board, its highest decision-making body.Prasad also faced a barrage of questions on whether the saffron party was attempting at "communal polarisation" with Shah raking up issues like migration of Hindus from Kairana, a contention he vehemently denied.He insisted that the BJP's "foremost commitment" was to UP's development but made it clear that the Akhilesh Yadav government's law and order failures be it in Mathura or Kairana were a matter of deep concern. "We don't speak about communalism but about national interest."Prasad quoted Shah as saying, "the migration happening in Kairana due to violence is a matter of serious concern. There is an atmosphere of violence. The lack of development and the lack of governance in the biggest state of India that is Uttar Pradesh is becoming a matter of serious concern."The party president also referred to the highest civilian honours accorded on Modi by two prominent Islamic countries, Saudi Arabia and Afghanistan, in a clear message to Muslims who continue to be wary of BJP due to its Hindutva agenda.Shah flayed Samajwadi Party over the Mathura incident saying it shows the Akhilesh Yadav government was encouraging land-grabbing."We will fight elections with full preparedness and form a government with a majority... You should take our developmental agenda to villages. The way the party is expanding we should pledge and make efforts to forming the government in 2019 at the Centre with a bigger majority," he said.Asked about more details of deliberations on UP elections, Prasad said the matter could be taken up in detail tomorrow.He also spoke against electoral violence against party workers in Kerala and West Bengal. "There is no place for violence in a democracy," Shah said. He emphasised that the entire BJP was with its workers who had faced political attacks in Kerala.To a question about the lack of prominence given to senior leader Murli Manohar Joshi in various posters put up by party leaders, he said posters should not be used to make comments about veteran leaders and BJP respected them. Joshi is a former MP from Allahabad.He said India had once again become the centre of world's hope and emerged as a very strong force under the Modi government after it had "fallen off" the global map under the UPA as he referred to the rise in GDP growth to 7.6 per cent in two years.Against the backdrop of BJP aggressively wooing Dalits, Shah spoke about Modi's reference of Dalit icon B R Ambedkar in his address to the US Congress. He also made a reference to Modi's "successful" five-nation tour.Among them, the US, Switzerland and Mexico extended their support to India's entry to the 48-member Nuclear Suppliers' Group, he said.
- PTI