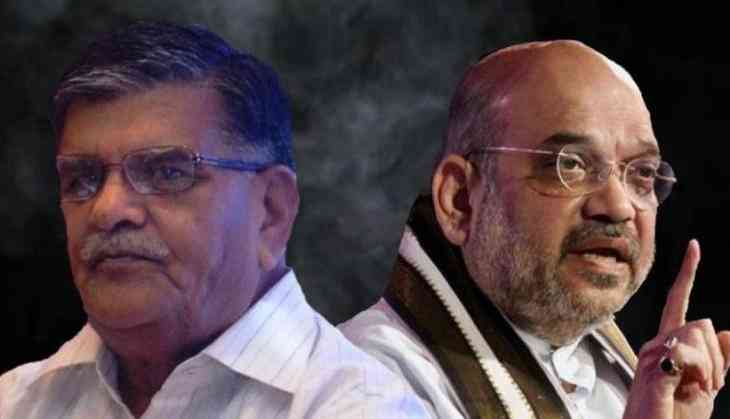 Gulabchand Kataria and Amit Shah
BJP president Amit Shah and IPS officer DG Vanzara have been accused as the "principal conspirator" in the Tulsiram Prajapati encounter case.
The list of accused includes Rajkumar Pandiyan and Dinesh MN as well. The police officer investigating the case, Sandeep Tamgade has told the court that all these officers and then Home Minister of Gujarat, Amit Shah were the key conspirators in the case and are directly responsible for the encounter.
Sandepp, who has been investigating the Sorahbuddin encounter case and the Tulsiram Prajapati case since April 2012 has said that he interrogated BJP chief Amit Shah and the current Home Minister of Rajasthan, Gulabchand Kataria, and found "incriminating" statements from the duo.
Sandeep said, as reported by the NDTV, that "from the investigation done by us, we found the principal conspirators were Amit Shah, DG Vanzara (former Deputy Inspector General of police in Gujarat), Rajkumar Pandian (Intelligence Bureau) and MN Dinesh (IPS officer, Rajasthan Police)."
Congress president Rahul Gandhi tweeted on the investigative report and seized the police officers claim and attacked the BJP supremo Amit Shah.
"The Gita says you can never escape the truth and so it has always been. Sandeep Tamgadge has called Amit Shah a 'key conspirator' in his testimony. It's completely appropriate for the BJP to have such a man as its President," Rahul said.
Union Minister for Textile, Smriti Irani, attacked Congress chief Rahul Gandhi, and tweeted that "Rahul Gandhi is back in action. He knows that after following due process, Court discharged Mr Shah in 2014. Court had also held that Amit bhai was implicated by CBI for political reasons. Will Rahul answer who in the UPA ordered this political witch hunt."
Also read: Signature Bridge accident: 2 bikers killed during a stunt, while clicking selfie on Delhi's Signature bridge
The Gita says you can never escape the truth and so it has always been.

Sandeep Tamgadge has called Amit Shah a "key conspirator" in his testimony.

It's completely appropriate for the BJP to have such a man as its President. https://t.co/yDDvf27zce

— Rahul Gandhi (@RahulGandhi) November 22, 2018