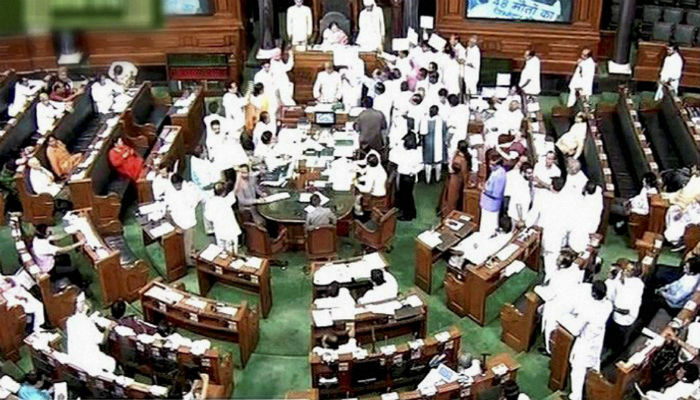 BJP MP Virendra Singh has invited ire from the Congress for allegedly making derogatory comments against Rahul Gandhi, Rajiv Gandhi, Indira Gandhi and Jawaharlal Nehru.
Speaker Sumitra Mahajan met with Congress MPs in the Lok Sabha after Singh's alleged remarks. The MPs, including KC Venugopal, Rajiv Satav and Sushmita Dev among others, were led by Jyotiraditya Scindia.
During the ongoing discussion on the drought, Singh commented that Rahul Gandhi and Jyotiraditya Scindia could not differentiate between bajra, jowar and wheat while they spoke about the anguish of the farmers.
"They have known farmers through books," he said. He added that the Congress only wants the 'fair skinned' to occupy the Prime Minister's office.
He also accused the Congress of a bias against the poor, adding that they had could not digest a once "poor" person was holding the post of the prime minister which, according to them, should be reserved only for the members of the Nehru-Gandhi dynasty.
"They are not able to digest the fact that a person from humble background has become the PM," he said.
In what was a jibe at Rahul Gandhi, he said it was the Congress which was dealing with "suitcases". This was meant as a veiled reference to the alleged scams by the party members and Rahul's refrain of calling the Modi government "suit-boot ki sarkar".
Targetting Jyotiraditya Scindia and his royal lineage, he taunted that Scindia was still addressed at "Maharaj" even though royal titles had been abolished.
"We will not let the House function on Thursday if action is not taken against the BJP MP," said a Congress leader.
In an effort to calm the agitated Congress members, Deputy Speaker M Thambidurai said that anything unparliamentary would not be a part of the record.