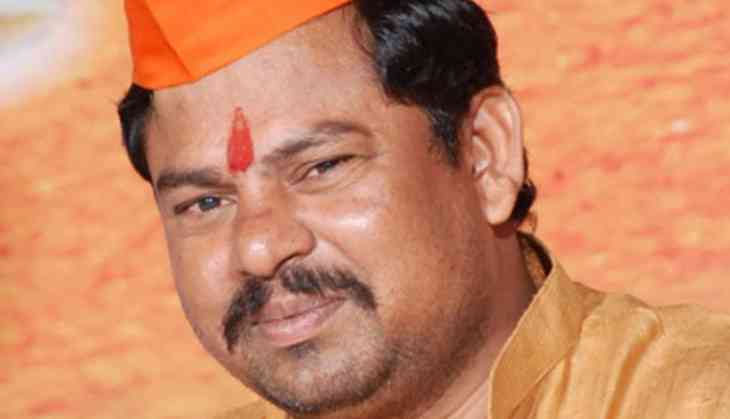 Telangana BJP MLA Raja Singh Lodh, controversial party leader from Goshamahal on Sunday resigned from the party (again) to focus of cow protection. According to him, the ruling state government is not doing enough to protect the bovine animal. Mr. Singh had quit also in 2017 but later took back his resignation. This would be his third resignation within a span of two years.
"I had resigned four days back, I had given a letter to president Laxman ji," said Raja Singh at a press conference in Hyderabad," The Telangana government is not taking any steps to prevent cow slaughtering in Hyderabad," he added.
The MLA alleged that "The ruling party MLC's are doing cattle exports, for the upcoming Bakri Eid, people are starving cattle in their houses, I will go to any extent for my Dharma and cows, as I treat them as my mother,".
Explaining the motive behind quitting the party this time around, Singh said, "Whenever I'm doing movement/protection for cow they are making an attack on Modi saying that 'your MLA is doing that saying this' so don't want my party or leaders should be blamed or attacked for my doings." He was referring to the many numbers of cases filed against him for hate speeches.
He has urged the state government and police to take preventive actions against the illegal cow slaughter and smugglers.
"Earlier, there were about 78 check posts to keep a strict vigil on illegal transportation of cattle at various places. But now, there is not even one. I request the local government and the police to take required measures," said Singh at the press conference.
However, shortly after Singh's press conference the Telangana BJP spokesperson, Krishna Rao Reddy tweeted out saying, "MLA Raja Singh has not resigned from the party. His resignation has neither been accepted nor approved by the party. "
Also read: Former Lok Sabha Speaker Somnath Chatterjee passes away at the age of 89 due to cardiac arrest