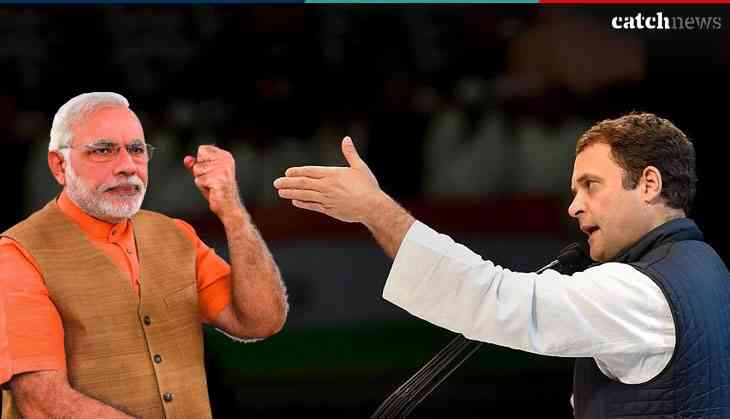 The Narendra Modi led BJP government will complete its fourth year in power at the Centre on Saturday. The Bhartiya Janta Party is all set to celebrate their four year completion day in a grand manner by showcasing its achievements in its governance. However, to oppose the BJP on its big day, the Congress is all set to observe Vishwasghat Diwas (betrayal day) on Saturday.
Rahul Gandhi-led Congress will be protesting against the BJP-led National Democratic Alliance government at the Centre. The grand old party will hold at least 20 press conferences in different cities of the country, including the national capital, Delhi.
The #Congress party will observe Vishwasghat Diwas (betrayal day) on Saturday, when #NarendraModi - led #BJP government completes four years. #ModiAt4

Read @ANI story | https://t.co/TAwka9gcjP pic.twitter.com/0x3e52sIdP

— ANI Digital (@ani_digital) May 25, 2018
Some of the top leaders of the Congress, including Ghulam Nabi Azad, Ashok Gehlot, Rajdeep Surjewala, Kapil Sibal and Abhishek Manu Singhvi, to name a few, will present their views about the BJP government and it's four years in the centre in front of reporters during the press meets.
Talking about the decision to hold Vishwasghat Diwas by the Congress, a senior leader of the party said that the BJP should not celebrate as the country is neck-deep in troubles.
On this day in 2014, we began our journey of working towards India's transformation.

Over the last four years, development has become a vibrant mass movement, with every citizen feeling involved in India's growth trajectory. 125 crore Indians are taking India to great heights!

— Narendra Modi (@narendramodi) May 26, 2018
"Why the government is increasing prices of petrol and diesel every day? Why there are no jobs for educated youths in the country? Why women and girls in India are not safe? There are several such unanswered questions the Modi government is not ready to face. The government should first address people's problems instead of hosting such expensive events. The BJP government has cheated the voters," he added.
While, on the big day for BJP, it is planning to formally launch its campaign for the 2019 Lok Sabha polls, to take place in April-May next year. According to One India reports that the General elections 2019 might be preponed and will be held in December this year.
This time, the BJP's main election slogan will be "2019 Mein Phir Ek Baar Modi Sarkar" (In 2019, Modi Government Yet Again), according to various media reports. In 2014, the BJP came to power with its famous slogan-- "Abki Baar Modi Sarkar" (This Time, Modi's Government).
The Modi government is celebrating its fourth year at a time when the entire nation is reeling under various problems. Four years since the BJP government came to power at the Centre, Modi's big promises of "Achhe Din" (Good Days) or "Sabka Saath Sabka Vikas" (Collective Efforts Inclusive Growth) remained mere slogans as the country is currently reeling under various problems, said a political analyst
Also read: Lok Sabha 2019 Elections: This time not 'Abki Baar Modi Sarkar' after four years, BJP back in election with this new slogan