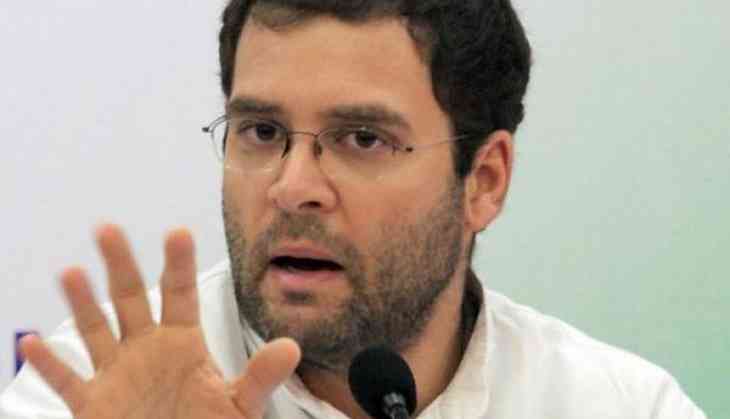 Congress vice-president Rahul Gandhi on Tuesday targeted the Bharatiya Janata Party (BJP), which is trying its best to form the governments in Goa and Manipur despite being the runners up, and alleged that the saffron party was using money and financial power to undermine democracy.
"We are in the opposition, you have ups and downs and we had a little down in Uttar Pradesh which is fine and we accept it. But we have an ideological fight with the BJP and we will continue to do that," Gandhi told the media here.
"What they (BJP) did in Manipur and Goa is basically the ideology of the BJP and that is what we are fighting against. Out of the five states, the BJP won two, we won three. In two of the states we won, democracy is being undermined by them using financial power and money," he added.
Earlier today, the Supreme Court refused to stay the swearing-in of former defence minister Manohar Parrikar as the Goa Chief Minister and ordered a floor test in the state assembly on March 16 at 11 a.m.
Parrikar's swearing-in ceremony will go as per schedule today.
This development came after the Congress moved the apex court challenging the scheduled swearing-in of Parrikar.
Governor Sinha had invited Parrikar to form the next government in the coastal state after he submitted a letter of support of 21 legislators.
In Goa, the BJP says it has the support of 21 MLAs, the exact number needed to prove majority in the 40-member House. The Congress has 17 MLAs, followed by the BJP with 13, the MGP (3), the GFP (3), the NCP (1) and Independents (3).
Meanwhile in Manipur, the BJP claims to enjoy support of 32 MLAs in the 60-member assembly. The Congress won 28, while the BJP bagged 21. The NPP and the NPF won four seats each, with the LJP and the Trinamool Congress securing one seat each.
-ANI