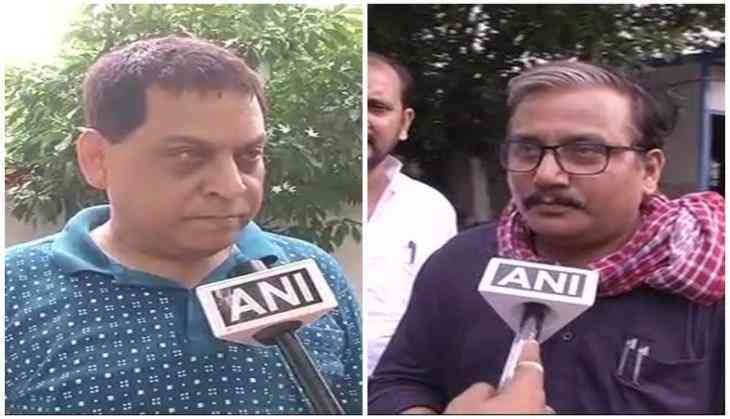 BJP creating atmosphere of "fascism": RJD
The Rashtra Janata Dal (RJD) on Wednesday accused Prime Minister Narendra Modi and Bharatiya Janata Party (BJP) chief Amit Shah of creating an atmosphere of " Fascism".
Talking to ANI, RJD leader Manoj Jha said if BJP is saying Tejaswi Yadav as a 'daagi' leader then 'daagi' are those who killed humanity and are sitting in central positions.
"Mahagathbandhan will function smoothly. There is no problem either in our language, our expressions or in our commitment..Should we bow down to 11, Ashok Road? If we had to accept all charges without any evidence, then that is fascism. Prime Minister Modi and Amit Shah have given many symptoms of fascism. Daagi are those who creates violence with mob. If you go and find out the 'daagi' characters then they are in 11, Ashok Road. these FIR is not done by the CBI but by Amit Shah and PM Modi. Their address is 11, Ashok Road," he added.
He further said these are the symptoms of power that if they cannot win politically then this way they have to be successful.
Meanwhile, Janata Dal (United) Neeraj Kumar asked Tejaswi Yadav to come out with facts, but did not seek his resignation.
"Our party has said it straight forward that an FIR has been launched. The information that we have is that CBI has filed a case. They should understand the motive behind this. Nitish Kumar's policy has always been against corruption. We have cleared one thing that they should give their clarification in the public domain. It has been our principle of intolerance against corruption. Its our suggestion that they should give clarification on this. We are waiting for their reply," he added.
Tejaswi Yadav said corruption charges levelled against him were part of a "political conspiracy" and based on a period when he "didn't even have a moustache."
"I was just 14-15 years old. How could I have indulged in such activities?. It is a political conspiracy against me by the BJP and its leaders Amit Shah and Narendra Modi", he told reporters after a Cabinet meeting.
-ANI