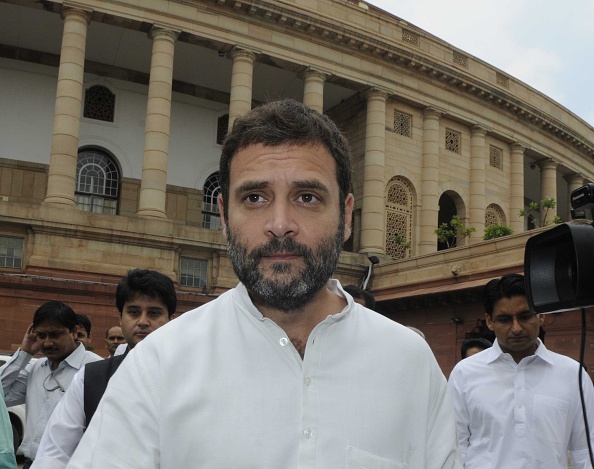 After Congress Vice-President Rahul Gandhi criticised the BJP government over the issue of One Rank One Pension, the ruling party lashed out at him which saw a war of words between the two.
This war of words between the two parties on 14 August saw Union Minister Ravi Shankar Prasad questioning Rahul's leadership credentials, claiming that many party leaders were "disgusted with the way he is leading" Congress, and party chief Sonia Gandhi foisted him on the country after "low voice of protests" against making him the party president.
Prasad said the Narendra Modi government was working to resolve the OROP issue and will do it.
"Hit and run, and spit and run are the two principals of Rahul Gandhi's politics. How many times will Sonia Gandhi try to package and repackage Rahul Gandhi. You would have seen that his 'chatukar' (lackeys) were demanding him to be made party president but for the first time there was some low voice of protest.
"He could not be made president so Sonia Gandhi has been trying to foist him on the country," he said, adding that the stalling of Parliament was a part of this tactic as Rahul was worried over the "success" of BJP government and the way many important bills were passed in the previous sessions.
The Gandhi family, he alleged, believes that it had a divine right to be permanent occupant of 7 RCR, the Prime Minister's official residence, or install somebody there on its behalf.
Responding Congress' charge that it was BJP government's arrogance which caused the virtual washout of the monsoon session, he said the principal source of all problem was that it was unable to reconcile to be in the opposition.
"I will ask Ghulam Nabi Azad and Mallikarjun Kharge to have patience as they have to sit in opposition for a long time," he said, reacting to the two Congress leaders attack on the government at a press conference.
He also condemned Congress' criticism of Speaker Sumitra Mahjana, saying she was a veteran parliament who has been "neutral" in role.
-PTI