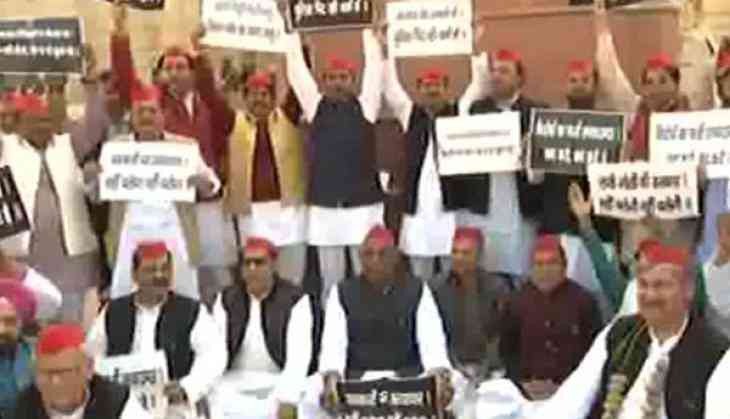 The Bharatiya Janata Partry (BJP) on Thursday accused the Samajwadi Party for looting farmers and backing criminal in Uttar Pradesh.
Shrikanth Sharma said the Samajwadi Party was responsible for deteriorating law and order in the state as the party had helped criminals breed in Uttar Pradesh.
Sharma's statement came after the Samajwadi Party earlier in the day protested in UP Legislative Assembly against Chief Minister Yogi Adityanath.
Carrying placards and shouting slogans in front of former Prime Minister Chaudhary Charan Singh's statue, the opposition party accused the BJP of neglecting farmers.
"We don't want a government which cannot get fair price for farmers," said the demonstrators.
Responding to the allegations made by Samajwadi Party's activists, Sharma said the SP had looted farmers for years. "The previous government cheated farmers while we're honouring Chaudhary sahab by helping them get fair price of crops like sugarcane, wheat and potatoes."
He also said the Akhilesh Yadav-led party had cheated farmers by denying tubewell connections to them, and added that the BJP would take Uttar Pradesh to new heights.
--ANI