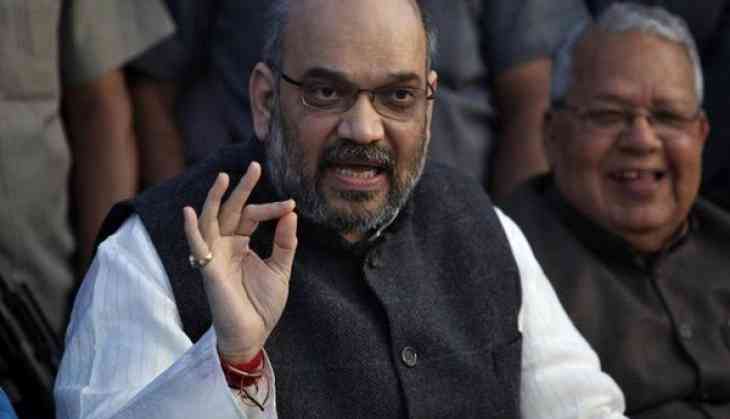 BJP party chief Amit Shah is all set to address the mega rally in Mumbai's BKC at 12 pm. The party supremo will address 300000 party workers at MMRDA ground in BKC. Mr Shah will later hold a press conference at 4 pm, and then hold a meeting with legislators from Maharashtra at 5 pm.
Greeting BJP on its 38th foundation day, Nagaland chief minister Neiphiu Rio said,"As participating and contributing member of NDA, we (NDPP) appreciate the inclusive spirit of the BJP."
Ahead of the event in Mumbai, Police has issued a traffic advisory for the travellers in view of the BJP rally that is expected to host in BKC where around 3 lakh party workers at the MMRDA grounds will gather to celebrate 38th foundation day of BJP.
The Bharatiya Janata Party all set to kickstart its campaign for the ensuing 2019 Lok Sabha elections with a massive showcase of party workers on 38th foundation day on Friday.
The BJP president Amit Shah, Union shipping minister Nitin Gadkari, Maharashtra CM Devendra Fadnavis, state BJP president Raosaheb Danve-Patil and other top functionaries will be present on the occasion to address the party workers.
Here is an important latest update of BJP's 38th foundation day celebrations:
14 55 (IST)
The countdown for 2019 General Elections has begun, says Amit Shah
"Narendra Modi is the world's most popular prime minister. BJP workers should spread the word about Modi government's works, and set the stage for 2019 Lok Sabha election." BJP chief Amit Shah told party cadres in Mumbai.
Smashing Congress president Rahul Gandhi, Shah said, "When we lost two Lok Sabha seats recently and Rahul Gandhi distributed sweets. He is the first leader I've seen who would do this." "Today, 20 states are ruled by BJP. This is a thing of joy for the party." he added.
14:42 (IST)
Budget Session washed out because of Oppositions disruptions, says Amit Shah
BJP president Amit Shah said, "We were ready to address all issues in the Parliament. It was the Opposition that disrupted the proceedings. Ghulam Nabi Azad, you fix the stage and we'll be up for debate. We have nothing to hide."
14:36 (IST)
BJP supremo Amit Shah takes dig at Congress chief Rahul Gandhi:
"Rahul Gandhi, you are question Narendra Modi on 4 and a half years of rule. The people of the country are questioning you on four generations of rule. Rahul baba you question our intentions. The farmers of the country were tired of asking for proper price under Congress' rule. Modi government has planned to compensate farmers with 1.5 times the price of their crop," BJP chief Amit Shah said.
14:27 (IST)
Under PM Narendra Modi's government, only lotus visible in every corner of India, says Amit Shah
"Today the party's foundation was laid. Therefore, I whole-heartedly want to wish all party workers. BJP has lost most number of workers in this country. Under Narendra Modi's rule, only lotus visible in every corner of India," says Amit Shah
13:58 (IST)
Union shipping minister Nitin Gadkari says," If there is a party which has cadres willing to sacrifice themselves for the country's progress, then it is BJP. You know, the term 'secular' is often used in India's politics. The day the poor gets roti, kapda, makaan (food, clothing and shelter),, that is when we will know we have achieved something."
13:05 (IST)
BJP chief Amit Shah arrives at BKC venue, to address mega rally shortly. He is expected to address the massive gathering shortly.
12:23 (IST)
BJP's grand show of strength at MMRDA grounds on 38th foundation day celebrations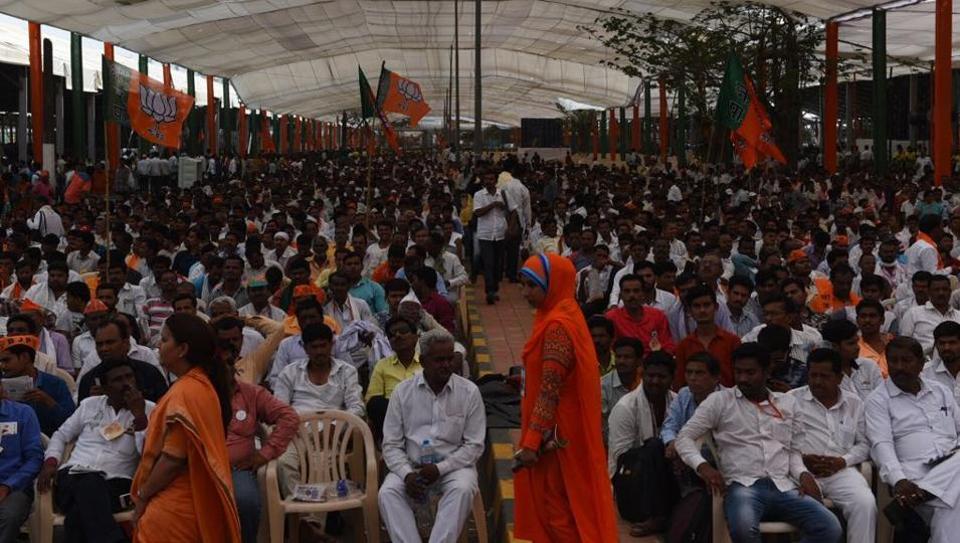 12:16 (IST)
Chief Amit Shah, Nitin Gadkari to reach the venue in 10 minutes, says BJP leader Chandrakant Patil
11:17 (IST)
BJP supremo Amit Shah to mega rally at 12 pm
10: 24 (IST)
Jammu and Kashmir chief minister Mehbooba Mufti wished the BJP on its 38th foundation day.
Hearty congratulations to @BJP4India on its foundation day. I sincerely hope that India under @narendramodi ji can truly exhibit the moral leadership of the region by winning the trust, hearts & minds of the people of J&K.
10:04 (IST)
BJP's Mega rally to be held 12 pm at BKC, Mumbai
09:39 (IST)
Maharashtra CM Devendra Fadnavis says 'honoured to have Amit Shah for celebrations'
My greetings & salute to millions of karyakartas across the Nation on #BJPFoundationDay !
We,the karyakartas from Maharashtra are honoured that our Rashtriya Adhyaksh Mananiya @AmitShah ji is celebrating #FoundationDay with us in #Mumbai !#BJPMahaMelava#ChaloBKC#IndiaTrustsBJP pic.twitter.com/EoJBtOHAWj

— Devendra Fadnavis (@Dev_Fadnavis) April 6, 2018
09:30 (IST)
BJP's ideology advocates to make India 'Vishwa guru' (universal teacher), says Dharmendra Pradhan
The soul of BJP is its ideology of "Integral Humanism" that advocates to make Bharat a 'Vishwa Guru' while serving the last man in the society. More than just a party, it is truly a revolution of millions of selfless karyakartas. More power to this revolution. #IndiaTrustsBJP
09:10 (IST)
Mumbai commuters brace for massive traffic snarls; traffic police issues advisory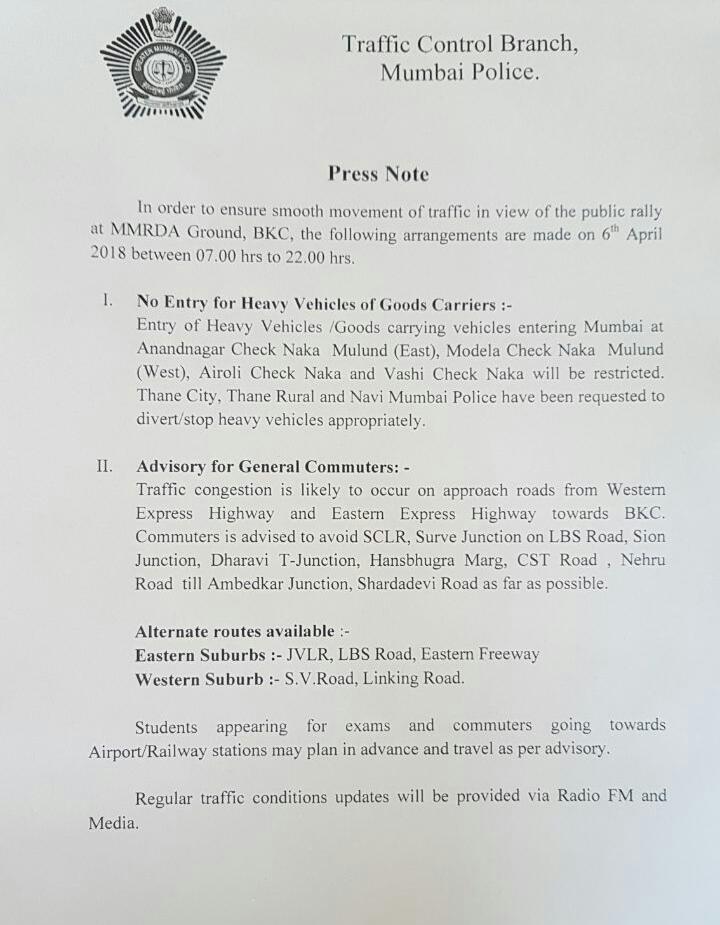 8: 05 (IST)
Narendra Modi tweets with #IndiaTrustsBJP on party's 38th 'stapna diwas'
I bow all @BJP4India Karyakartas on the special occasion of the Party's Sthapana Diwas.
We remember, with great pride, the heroic service and sacrifice of all Karyakartas who built the BJP and committed themselves towards creating a stronger and better India. #IndiaTrustsBJP
I bow all @BJP4India Karyakartas on the special occasion of the Party's Sthapana Diwas.

We remember, with great pride, the heroic service and sacrifice of all Karyakartas who built the BJP and committed themselves towards creating a stronger and better India. #IndiaTrustsBJP pic.twitter.com/5iLKVcBVI7

— Narendra Modi (@narendramodi) April 6, 2018