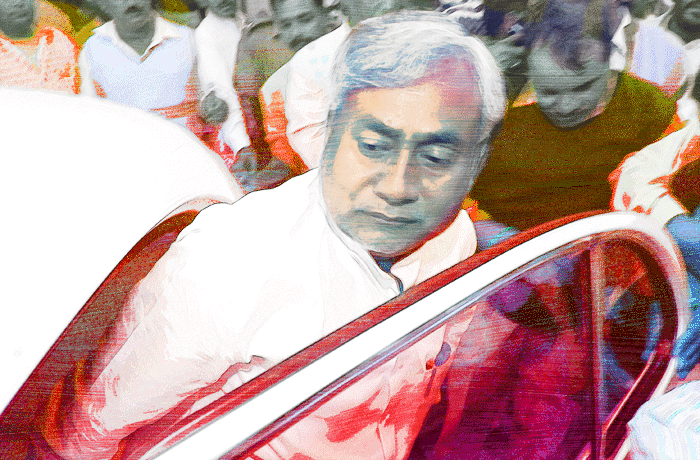 The coming together of Bihar Chief Minister Nitish Kumar and RJD chief Lalu Prasad Yadav was meant to hault the Modi juggernaut, that has either won or improved its seat count in all Assembly elections except in Delhi.
But the dismal performance by JD(U)-RJD-Congress combine in the Assembly council polls has put question marks on the strength of the alliance. If these results are of any indication, BJP might be heading towards a win in the Bihar assembly elections, that are just a few months away.
Here's a fact sheet on the final tally of seat at the council polls.
1. The RJD-JD(U) alliance won 10 of the 24 seats. Further breaking down, Nitish Kumar's JD(U) won five seats. Lalu's party could muster four seats.
2. Leaving behind the combined strength of JDU and RJD, BJP alone won 12 seats. It's ally, Ram Vilas Paswan's LJP's won one seat.
3. Congress managed to win just one seat, while NCP won none.
Why should Nitish Kumar worry?
For years, BJP has been JD(U)'s junior partner in Bihar. Just before the General elections in 2014, Nitish Kumar broke the alliance over Narendra Modi's prime ministerial candidature. But his party got a jolt, when BJP won 32 out of 40 seats its own in Bihar in the national elections.
Finally, after a long drawn debate over seat sharing and chief ministerial candidate, Nitish Kumar entered into an alliance with his former friend turn foe Lalu Prasad Yadav.
But the bet, it seems, hasn't paid off. BJP, that had termed these polls as 'semi-finals', has improved its seat count from five to 12 in the council polls, while JD(U)'s saw a slump in its seat count from 19 to just five.
What did the BJP say?
Former deputy chief minister Sushil Kumar Modi said:
Nitish Kumar dared us, said stick to your word of calling it a semi-final. We did stick to our word. The best feature of the council polls is that Muslims have voted for us in big numbers.
What did the JD(U) say?
Nitish Kumar hasn't commented on the loss yet. However, some party spokesperson played down impact that the council poll results could have on the Assembly elections, while admitting that the party needs to introspect.