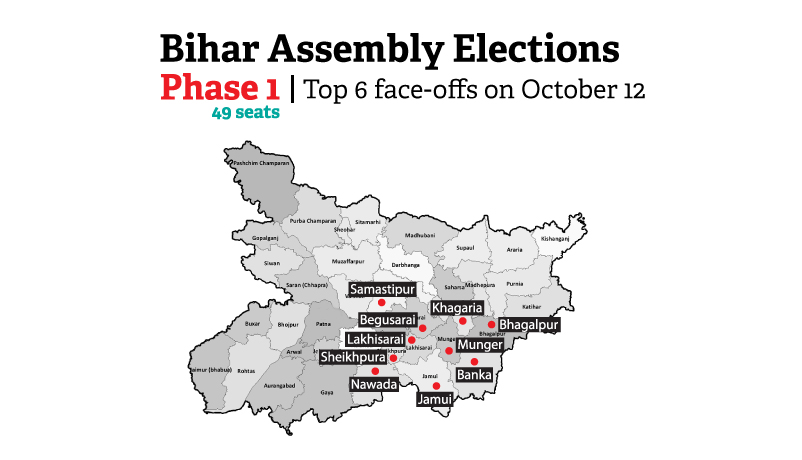 Polling for the first phase of the five-phase Bihar Assembly elections ended on Monday amid tight security in 49 constituencies spread over 10 districts. The poll bound districts are Samastipur, Begusarai, Khagariya, Bhagalpur, Banka, Munger, Lakhisarai, Sheikhpura, Nawada and Jamui.
Voting had reached 49 per cent at 3pm. Voter turnouts are yet to come in.
Over 1.35 crore voters will decide the electoral fortune of 583 candidates, including 54 women in this phase.
Here, we list the six constituencies to see some crucial clashes:
TARAPUR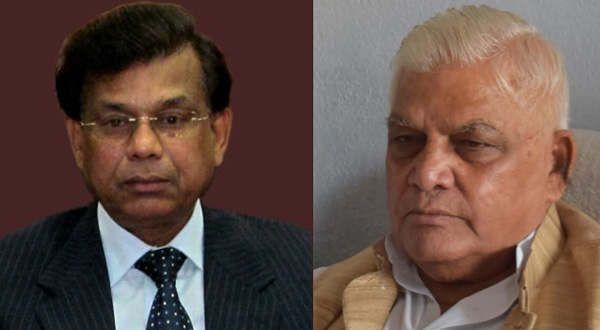 State president of the Hindustani Awami Morcha (Secular) Shakuni Chaudhary, will contest from his turf Tarapur in Munger. In the 2010 Assembly elections, Chaudhary lost a close contest to Janata Dal United (JDU) leader Neetu Chaudhary. The HAM state president polled 30,000 votes, securing 25% of the total vote share.
This year, Neetu Chaudary's husband, educationist Mewa lal Chaudhary, has been fielded by the JD(U) against Shakuni. Mewalal is the former vice-chancellor of Bihar Agricultural University. As the vice-chancellor of BAU, Mewa Lal did much work exploring the possibility of using nuclear energy in the field of agriculture.
KHAGARIA
Following in the footsteps of HAM state president Shakuni Chaudhary is his son Rajesh Kumar, who will test his electoral fate in the first phase. Kumar is the the party candidate from Khagaria.
Kumar will face JD(U)'s sitting MLA Poonam Devi Yadav. Poonam is the first wife of Khargia muscleman and former MLA Ranbir Yadav. Her sister is also married to Ranbir Yadav. And interestingly, the siblings were up against each other in the previous elections. Both were launched in politics by their husband who reportedly fulfills his political ambitions fielding proxy candidates.
BHAGALPUR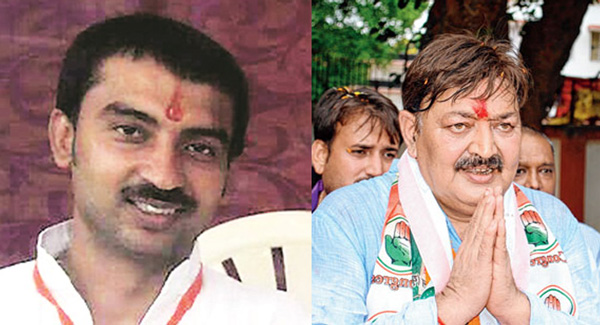 The constituency is currently represented by Congress MLA Ajeet Sharma, who came to power after defeating BJP's Nabhay Kumar Choudhary in a bypoll in 2014. It was a historic win as the Congress was able to wrest the Bhagalpur assembly from the BJP after 23 years. Sharma also happens to be one of the richest candidates in the upcoming Bihar elections with total assets worth Rs 4,05,735,981.
Read More: #BiharPolls: seven richest candidates in first phase of elections
Sharma will fight BJP's Arijit Shashwat, son of former state minister and Buxar MP Ashwini Choubey. Bhagalpur is a BJP stronghold which it lost to Congress in bypolls in 2014. Arijit was apparently actively involved in the state membership drive and enrolled 40,000 members, according toTelegraph. Apart from being a newcomer, what makes this election so difficult for Arijit is the fact that rebel BJP candidate Vijay Sah, is reportedly making it tough for him "with the tacit support of Shahnawaz Hussain" to win his first election.
KALYANPUR
This seat will see a chacha bhatija contest. Lok Janshakti Party(LJP) MP Ram Chandra Paswan's son Prince Raj fights his relative and JD(U) veteran Maheshwar Hazari. 26- year old Prince, a master's degree holder, is the nephew of Ram Vilas Paswan and Hazari is a cousin of the LJP chief. So, whoever wins the seat, its the Paswan family that stands to gain from the results.
Read More: #BattleForBihar: 5 prominent political sons in the fray
JAMUI
Former minister Narendra Singh's son Ajay Pratap, who is also the sitting MLA and a BJP candidate will have to fight it out against RJD's Vijay Prakash. Pratap reportedly has the support of the Thakurs, who are numerically dominant in the constituency, followed by Yadavs and the combination of Brahmin-Kayastha-Bania communities. Jamui is also the Lok Sabha constituency of LJP leader and MP Chirag Paswan who might help draw Dalit votes.
BEGUSARAI
MLA Surendra Mehta (BJP) is fighting it out with Mahagathbandhan(Grand Alliance) CandidateAmita Rai (Congress).
Bihar's own Leningrad will see the CPI contesting five of Begusarai's seven seats, while the CPI-M and CPI-ML are contesting a seat each.