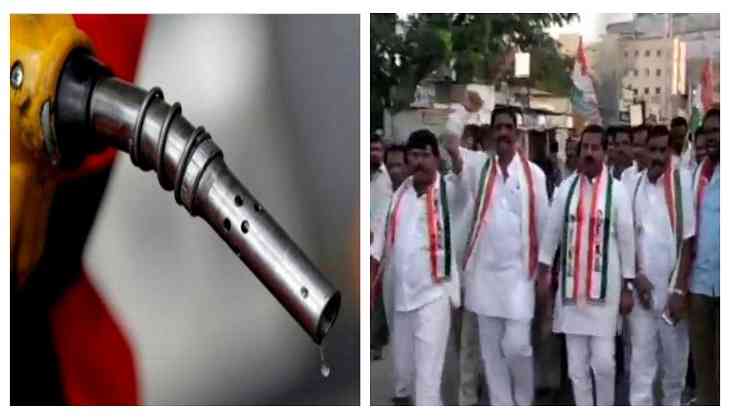 In protest against the hike in petrol and diesel prices in the country, Congress has called a 'Bharat Bandh' today i.e. 10th September. Reportedly, UPA chairperson Sonia Gandhi will lead the bandh in India. However, on Sunday, Congress has claimed that they get the support of 21 parties. Congress party also said there will be no violence during the shutdown. Parties who are supporting the bandh have 21, including SP, BSP and DMK.
Because of the shutdown, the Karnataka government has also declared a holiday in all educational institutions today. Also, government offices will also remain closed today. On the other hand, Aam Aadmi Party has sidelined itself from Congress' Bharat Bandh.
However, Congress will start its rally at 8 am today at Rajghat. Meanwhile, Sonia Gandhi and former Prime Minister Manmohan Singh will be there to lead the protest. Several things have been excluded in the shutdown i.e. the medical shops, hospital and ambulance so that no patient would suffer because of the today closure.
Earlier, Congress leader Ajay Maken attacked Modi government and said that in last four years, the excise duties has been increased by 211.7 percent on petrol while 443 percent on diesel. In May, there was only Rs 9.2 excise was implemented and now, it is Rs 19.48. At the same time, diesel had a Rs 3.46 excise while now it cost Rs 15.33. Now, Congress has demanded from Modi government that petrol and diesel should also be brought under GST (Goods and Services Tax). Because, if this would happen then there will be a cost-cutting in the fuel price to Rs 15-18. Because of this, the cost of other items will also reduce.
According to Congress, the government has earned 11 lakh crore from excise duty only in the last four years. Therefore, Congress is demanding to bring the fuel price under GST.
However, today (10 September), the petrol price in 80.73 in Delhi while Rs 88.12 in Mumbai.
In Delhi, diesel prices stood at Rs 72.83/litre, up by Rs 0.22/litre. In Mumbai, the price of diesel touched Rs 77.32/litre, up by Rs 0.23/litre.
Also read: Bharat Bandh called by Oppositions lead by Congress on Monday: Daily life to be affected in several cities; everything you need to know