Somi Das
| Updated on: 13 February 2017, 5:28 IST

Dynastic politics is the reality of India. As much as we detest the phenomenon, given the number of sons of politicians fighting the elections in Bihar, this is one reality we must learn to live with.
Here are five prominent sons from across political parties who tested their electoral luck this election. Will the electorate give them a thumbs up?
Tejaswi Yadav and Tej Pratap Yadav, RJD: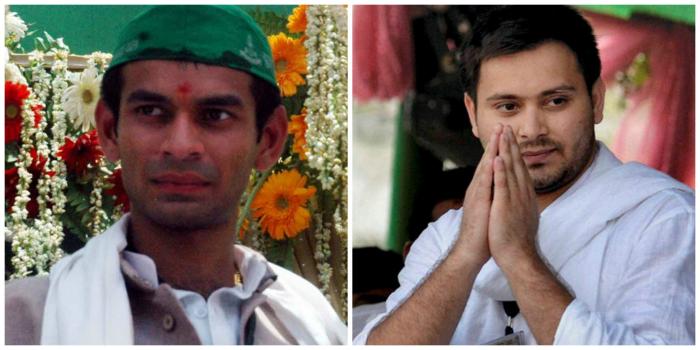 The two Yadav sons, were embroiled in an age controversy over the filing of their affidavits. They have a dad who is not only influential but also impartial. RJD supremo Lalu Prasad Yadav made sure both his sons got tickets.
Also, he saw to it that his sons got relatively safer launch pads. Tej Pratap contested from Mahua and Tejaswi from Raghopur - both Yadav-dominated seats.
Lalu had to bargain hard with Chief Minister Nitish Kumar to secure the seats for his son. Both seats were won by JD(U) leaders in the last elections; so the tickets didn't go to the winning MLA but to greenhorns with an influential surname.
In fact, Tej Pratap was so sure that his father's would manage to silence naysayers, that he took to social media to declare his choice of the constituency, months before the tickets distribution was finalised.
Interestingly, Raghopur -- Tejaswi's seat -- has been his mother Rabri's battlefield on earlier occasions. She lost the seat in the last assembly elections to JD(U).
The duo is markedly different from their father's rustic mannerisms. Both believe in English education and the power of the internet, something despised by Lalu in his heydays.
Younger son Tejaswi is a school dropout. He was with the Delhi Daredevils IPL team for four seasons but didn't play any matches. Tej Pratap, 27, is more closely involved with the campaigning and the social media outreach for the party.
Santosh Manjhi, HAM:
Even newly floated parties that have emerged out of rebellion against their established parties, like Jitan Manjhi's Hindustan Awam Morcha (HAM) haven't been able to give up the lure of dynasty politics. Initially, the rebel leader pitted himself against Ram Vilas Paswan, projecting himself as the bigger Dalit leader. He criticised LJP for being a 'father-son party.' But after bagging 20 seats from the NDA alliance, he too followed suit, fielding his son Santosh Manjhi from Kutumba constituency. Santosh, 39, is an assistant professor of political science at a college in Vajirganj, Gaya. But will the decision prove to be a wise one for HAM?
Vivek Thakur, BJP:
Son of the BJP vice president CP Thakur doesn't possess a stellar electoral CV. Vivek has the experience of contesting one Assembly election in 2005, which he lost. In 2010, the BJP denied him a ticket. So, when the BJP announced him as a candidate from Brahmpur constituency, many within BJP cried foul. Will he be able to make any difference today?
Arijit Shaswat Choubey, BJP:
Buxar MP Aswhin Choubey has been waiting to launch his two sons Arijit and Aviral and had sounded the party headquarters in advance about his desires. But only his elder son Arijit, 36, has made it to the ticket list. He contested from Bhagalpur, a BJP stronghold which it lost to Congress in bypolls in 2014. Arijit was apparently actively involved in the state membership drive and enrolled 40,000 members, according to Telegraph. His constituency goes to poll in the first phase of the elections. While he was up against sitting MLA Ajit Sharma, rebel BJP candidate Vijay Sah, reportedly made it tough for him "with the tacit support of Shahnawaz Hussain."