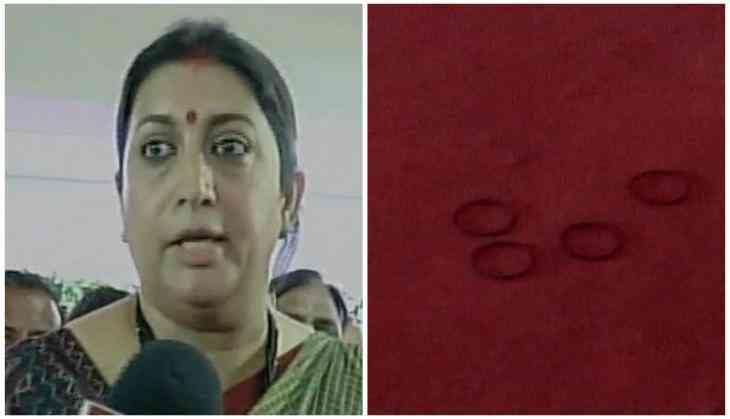 Police arrested a man for allegedly throwing bangles at Union Minister of Textiles Smriti Irani on 12 June while she was addressing a 'Sabka Saath, Sabka Vikas' rally in Amreli town.
Irani later blamed the Congress party for this incident and said that she was expecting this.
"With elections soon to happen in Gujarat, I was expecting such tricks," Irani said.
She further added, "A man has been sent to attack a woman. This strategy of the Congress party is absolutely wrong."
According to the police, the man was identified as Ketan Kaswala, a resident of Mota Bhandaria village in Amreli district.
Reportedly, ahead of the function, the police detained around 25 Congress workers for staging protests against the ruling Bharatiya Janata Party (BJP) government outside the venue, Agriculture University Hall.
Meanwhile, the Congress party leaders resorted to hunger strike demanding the release of the detained man.
This is not the first incident when a union minister has been insulted publicly.
On June 10, the Bhubaneswar Police arrested five persons, including Youth Congress President Lokanath Maharathi for allegedly hurling eggs at Union Agriculture Minister Radha Mohan Singh's vehicle near the State Guest House.
They also showed him black flags in protest against the killing of six farmers in firing in Mandsaur district in Madhya Pradesh.
The incident occurred soon after Singh left the State Guest House and was on his way to Jatni to attend a programme.
Singh was here to attend the mega 'Sabka Saath Sabka Vikas' event.
On 28 May, a member of the Hardik Patel-led Patidar Anamat Andolan Samiti had allegedly hurled a shoe at Union Minister Mansukh Mandaviya in Bhavnagar district.
-ANI