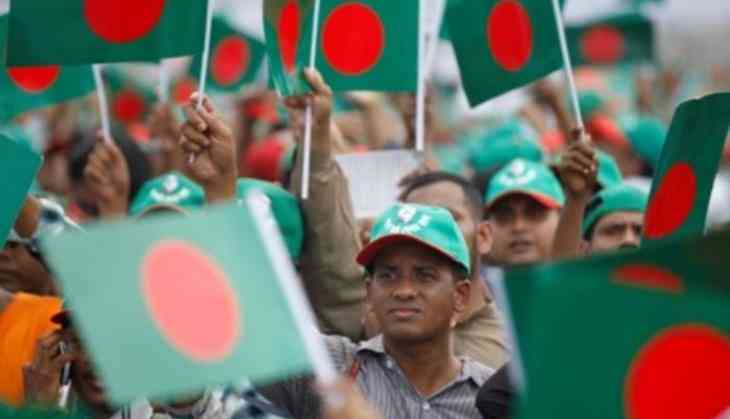 Bangladesh police launch assault on another militant den (PTI)
Bangladesh police on 31 March launched an assault on a militant den in a northeastern city, a day after a family of eight committed suicide by blowing themselves up as security forces stormed another terror hideout.

"Our SWAT (Special Weapons and Tactics) team started operations at their (second) hideout," a police officer in Moulvibazar told PTI.

Explosions and gunfire rocked the neighbourhood, witnesses said.

The police this week launched 'Operation Hit Back' to flush out militants from their hideouts after they failed to convince them to surrender.

The militants in the hideout that was targeted on Thursday belonged to Neo-Jamaatul Mujahideen Bangladesh (Neo-JMB), inclined to Islamic State.

"The suicide explosion blew up all who were inside the hideout...We assume seven to eight including minor children were there when the militants exploded a powerful device as we laid the siege to the den," Monirul Islam, the chief of police's counter terrorism unit, had told reporters on 29 March.

The neo-JMB was behind the July 1 terror attack on a Dhaka cafe that killed 22 people, including 17 foreigners.

Thursday's operation was launched two days after the chief of neo-JMB was killed along with three terrorists in 'Operation Twilight' in Sylhet.

IS has claimed several attacks in Bangladesh, but the government rejects the presence of foreign terrorist groups in the moderate Muslim-majority country, blaming home-grown groups such as the neo-JMB for terrorist attacks.

Bangladesh has been witnessing a spate of attacks on secular activists, foreigners and religious minorities since 2013. The country launched a massive crackdown on militants specially after the Dhaka cafe attack.
-PTI