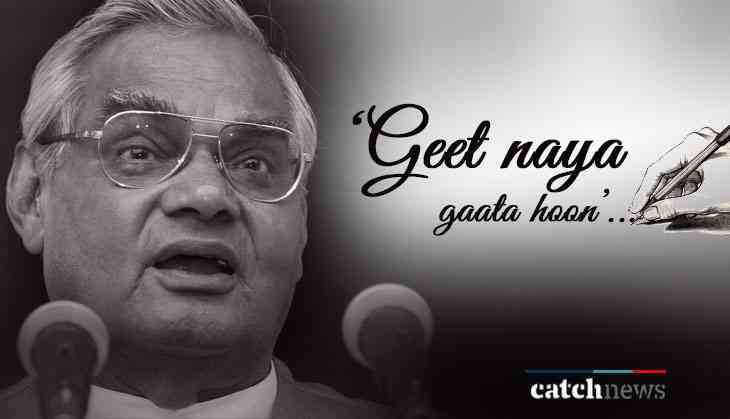 Atal Bihari Vajpayee is a renowned politician and among above a great former Prime Minister of India. Besides, his love for poetry can't be hidden from anyone. We all know that his passion for poems made him a great orator and also a great poet.
He had once said that "one day you may become an ex-prime minister, but you will never become an ex-poet!"
Our former PM is a born fighter and the reflection of which can be seen in his political career. However, today, the Bharat Ratna is at his critical stage and his health condition is getting deteriorated in the last 36 hours. AIIMS has also released a medical bulletin in which it has mentioned that there is has been no improvement in the ex-PM's health condition.
The whole nation is praying for his speedy recovery and various political dignitaries have also visited to meet the former PM at AIIMS.
Let's have look back at his famous poetries that one can't forget and have also a deep impact on the hearts of millions of people:


1. Aao fir se diya jalaen
Bhari dupahari mein andhiyara
Sooraj parachhai se hara
Antaratan ka neh nichode
Bujhi hui baati sulagaaen,
Aao fir se diya jalaen.
2. Raah kaun si jaaon main:
Do din mile udhaar mein
ghaaton ke vyapar mein
kshan-kshan ka hisaab loon
yaa nidhi shesh lutaoon main?
raah kaun si jaaon main?
3. Kadam milakar chalna hoga
Baadhaen aati hain aaen,
ghiren pralay ki ghor ghataaen
paaon ke neeche angaare,
sir par barsein yadi jwalein,
nij haathon mein haste-haste
aag lagakar jalna hoga.
kadam milakar chalna hoga
4. Kaurav kaun, kaun pandav:
kaurav kaun kaun pandav,
teda sawal hee,
dono aur shakuni ka phela kutjaal he,
har panchayat main panchali apmanit hee,
bina krishna ke aaj mahabharat hona hee,
koi raja bane,
runk ko to rona hee
5. Geet naya gaata hoon:
Toote hue sapnon ki kaun sune siski,
antar ki cheer vyatha palakon par thithki
haar nahi maanoonga,
raar nahi thanunga
kaal ke kapaal pe likhta mitata hoon,
geet naya gaata hoon.
We wish that he will recover soon from his illness and once again writes such a beautiful poem.
Also read: Atal Bihari Vajpayee: Did you know Vajpayee was jailed during the Emergency? These unknown facts you should know about former PM