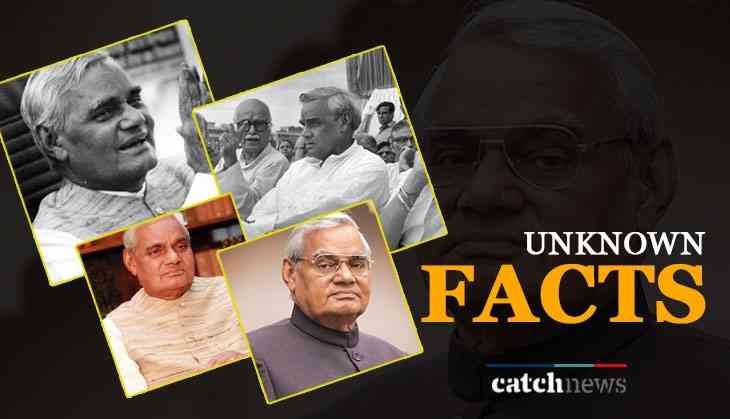 Our former Prime Minister and Bharat Ratna Atal Bihari Vajpayee's condition is still continuing to be the same. He has been put on a life-support system on Wednesday. Former PM has been admitted to the All India Institute of Medical Sciences (AIIMS) on 11th June. He is having kidney tract infection, urinary tract infection, low urine output and chest congestion.
The veteran BJP leader is also a patient of diabetes and has one functional kidney. He had also got a stroke in 2009 that affected his health and weakened his cognitive abilities.
Meanwhile, along with the political leaders, the whole nation is also praying for his speedy recovery. Atal Vajpayee is 93-years-old and now he has been fighting with his long-lasting disease.
Well, many of you don't know many things about Atal Bihari Vajpayee. Today, we are going to take you on a tour of his journey.
Here are some unknown facts of country's former PM:
1. He was born in Madhya Pradesh on 25 December 1924. He had completed his post graduation in MA (Political Science) from Laxmibai College in Kanpur, Uttar Pradesh.
2. His father name was Krishna Bihari Vajpayee, who was a poet and a schoolmaster. Atal Bihari Vajpayee is also famous for his poetry which has the essence of nationalism and also human values.
3. Atal Bihari Vajpayee first time entered to the political world with Quit India Movement.
4. Many of you don't know that he has also joined the Rashtriya Swayamsevak Sangh (RSS) as a Swayamsevak in 1939.
5. It's his skills that made Prime Minister Jawaharlal Nehru has predicted that someday Vajpayee would become country's PM.
6. He has also become the face of the Jana Sangh because of his good oratorical and organizational skills.
7. Finally, he becomes the head of the Jan Sangh in 1968 after Deendayal Upadhyaya. He and his party also supported the JP movement (Jayaprakash Narayan).
8. When Emergency was imposed in the country (1975-1977) then Vajpayee have been jailed.
9. He had become country's Prime Minister for the two time. The first time he took the charge as India PM in 1996 for a short span of time. The second time he becomes PM on 13th October 1999.
10. He has also been honoured with India's highest civilian honour, Bharat Ratna award in 2014.
Also read: Atal Bihari Vajpayee Heath Updates: AIIMS releases medical bulletin; health remains critical