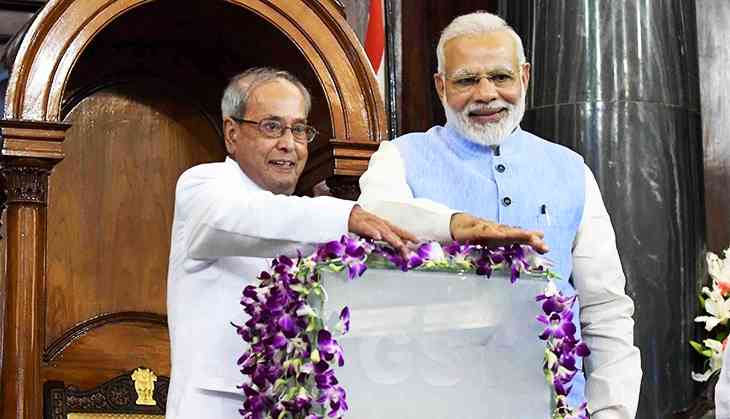 President Pranab Mukherjee and Prime Minister Narendra Modi press buttons for the launch of 'Goods and Services Tax (GST)' at midnight, at the special ceremony in the Central Hall of Parliament in New Delhi. (PTI)
The Goods and Service Tax (GST) was rolled out by Prime Minister Narendra Modi in the presence of President Pranab Mukherjee, Vice President Hamid Ansari, chief ministers of all states, speaker Sumatra Mahajan and MPs of both Houses in the Parliament's Central Hall at midnight.
Speaking at the occasion, Prime Minister Modi said that all states have come together like the "pearls in a string" to help to implement the new tax system and described the GST as – "Good and Simple Tax".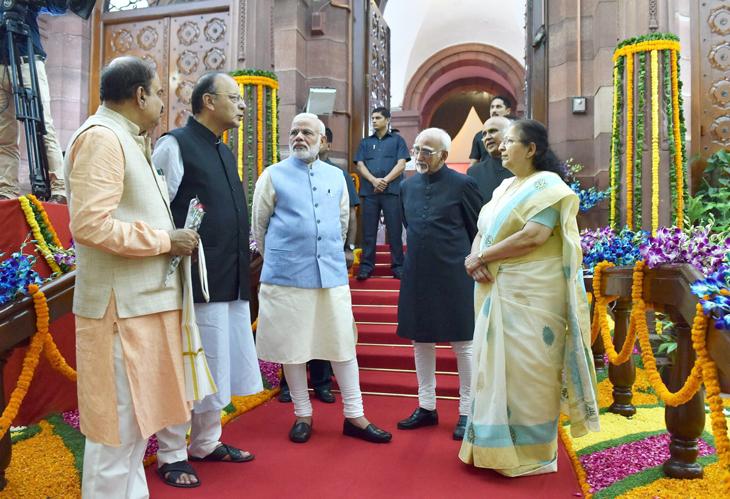 Vice President M. Hamid Ansari, Prime Minister Narendra Modi, the Speaker, Lok Sabha, Sumitra Mahajan, the Union Minister for Finance, Corporate Affairs and Defence, Arun Jaitley and the Union Minister for Chemicals & Fertilizers and Parliamentary Affairs, Ananth Kumar before the launch of the Goods & Service Tax (GST) at Central Hall of Parliament, in New Delhi. (PTI)
Finance Minister Arun Jaitley called GST an "important achievement for the entire country."
"I was closely involved in the formulation of the GST and I was confident that GST was just a matter of time and it would be passed eventually," said Pranab Mukherjee.
Despite all the 'excitement', the Congress and several other Opposition parties boycotted the session.
Here's a look into what went on inside the session.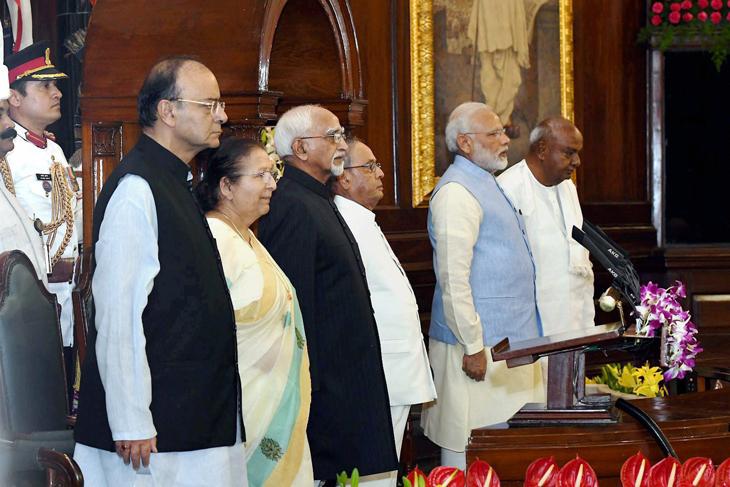 President Pranab Mukherjee, Vice President Hamid Ansari, Prime Minister Narendra Modi, former PM HD Devegowda, Lok Sabha Speaker Sumitra Mahajan and Finance Minister Arun Jaitley at the dais in the Central Hall of Parliament after the launch of 'Goods and Services Tax (GST)', in New Delhi. (Shirish Shete/PTI)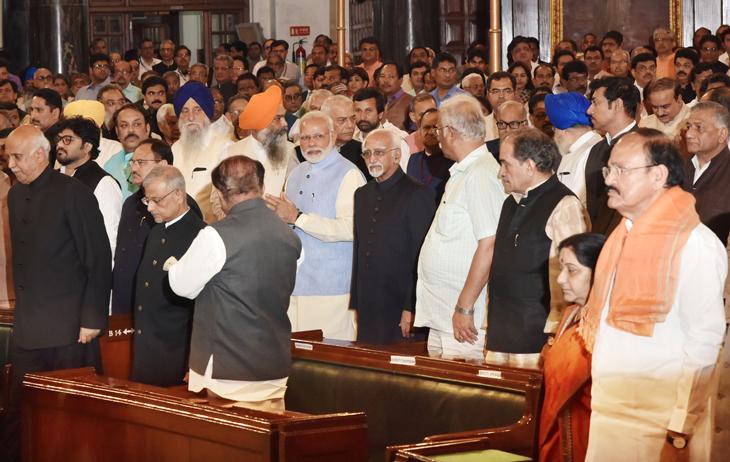 The Prime Minister, Shri Narendra Modi, the Members of Parliament and other dignitaries at the ceremony to launch the Goods & Service Tax (GST), in Central Hall of Parliament, in New Delhi. (pib.nic)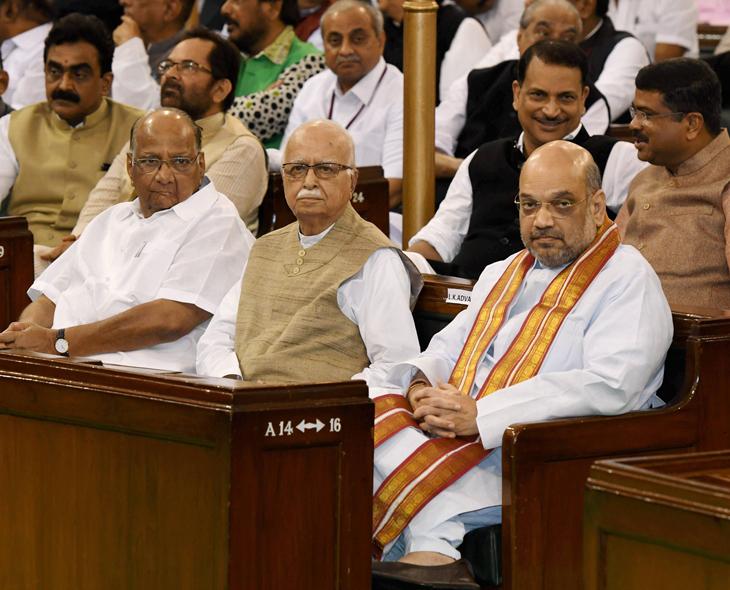 BJP senior leader LK Advani, party president Amit Shah, NCP chief Sharad Pawar and other dignitaries at the special ceremony in the Central Hall of Parliament for the launch of 'Goods and Services Tax (GST)', in New Delhi. (Shirish Shete/PTI)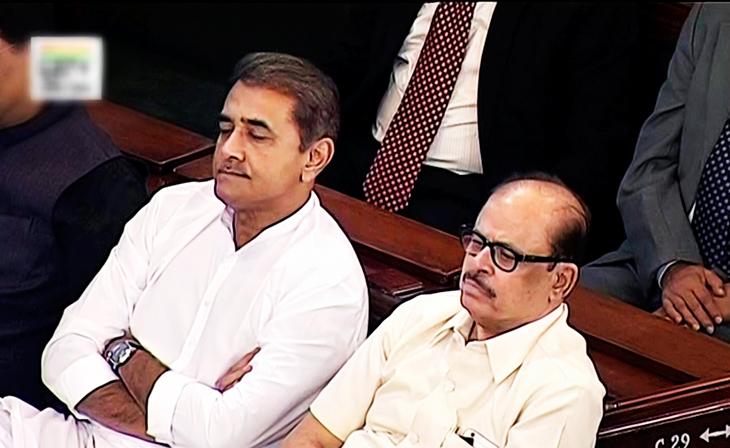 NCP leaders Praful Patel and Tariq Anwar at the special ceremony in the Central Hall of Parliament for the launch of 'Goods and Services Tax (GST)', in New Delhi. (PTI)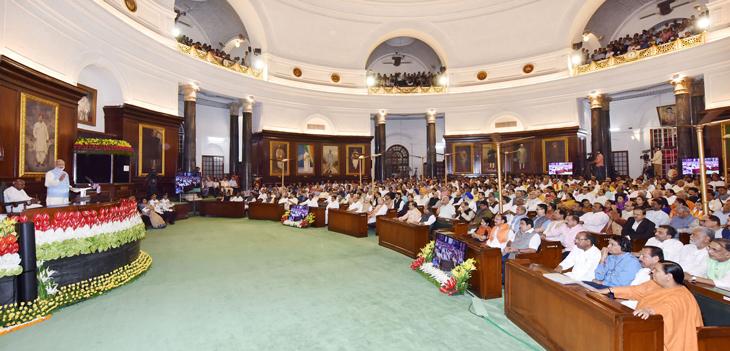 The Prime Minister, Shri Narendra Modi addressing at the ceremony to launch the Goods & Service Tax (GST), in Central Hall of Parliament, in New Delhi. (pib.nic)
The Union Minister for Finance, Corporate Affairs and Defence, Shri Arun Jaitley addressing at the ceremony to launch the Goods & Service Tax (GST), in Central Hall of Parliament, in New Delhi. (pib.nic)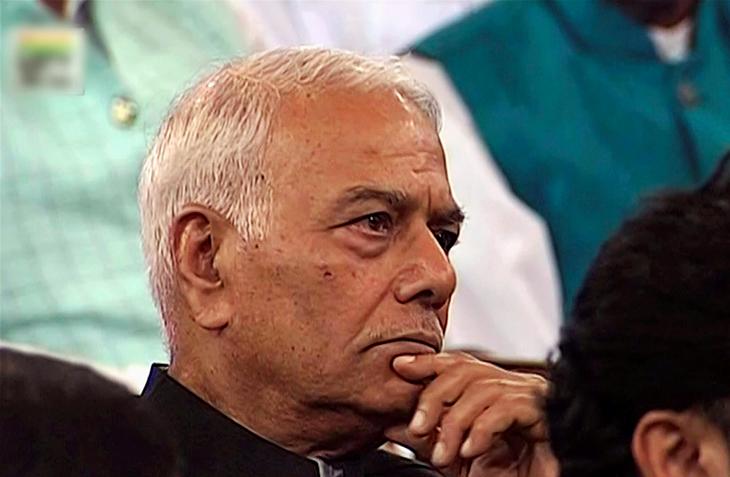 Former Finance Minister Yashwant Sinha at the special ceremony in the Central Hall of Parliament for the launch of 'Goods and Services Tax (GST)', in New Delhi. (PTI)