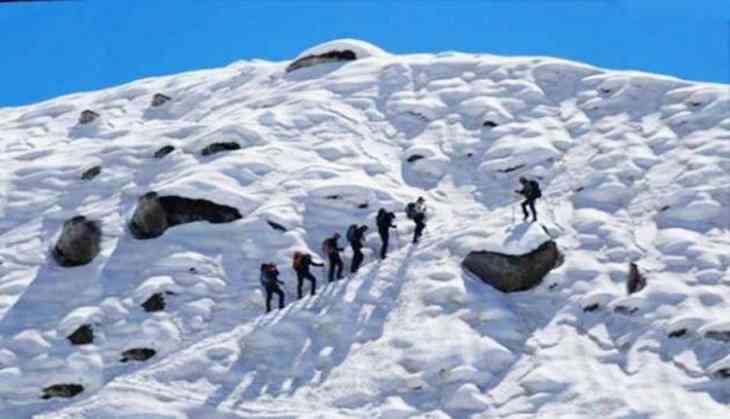 Siachen Glaciers (File Pic)
Four army personnel and two civilians have been killed after being trapped under snow at the Siachen glacier in Ladakh on Monday, ANI reports said.
#UPDATE Indian Army: Six persons including four soldiers and two porters killed in avalanche in the Siachen Glacier today. pic.twitter.com/WyPIl25ObR

— ANI (@ANI) November 18, 2019
At least 8 army jawans were stuck under snow after an avalanche hit Army positions in northern Siachen Glacier at around 3:30 pm on 18 November.
The Army troops immediately came to respond and launched a massive search and rescue operations.
Meanwhile, all eight army jawans were taken out of the avalanche debris, NDTV reports said.
As per the statement released by army personnel, "Seven individuals who were critically injured, accompanied by medical teams, providing critical care were evacuated by helicopters to the nearest Military Hospital, where all lifesaving resuscitative measures were instituted."
BREAKING: Very sad news. Four Army personnel and 2 civilian porters dead in the avalanche in Siachen. Remaining receiving treatment, critical. Statement from the Army: pic.twitter.com/BN2Vry3q8e

— Shiv Aroor (@ShivAroor) November 18, 2019
According to the reports, the soldiers were a part of a patrolling group of eight; they died due to extreme hypothermia, defence officials said.
"The soldiers were part of a patrol. They have been trapped at a height of between 18,000 and 19,000 feet above sea level after they were hit by a snow avalanche," a senior Army official told news agency IANS.
-With agency inputs
Also Read: Army personnel stuck under snow after avalanche in Siachen; rescue operation underway