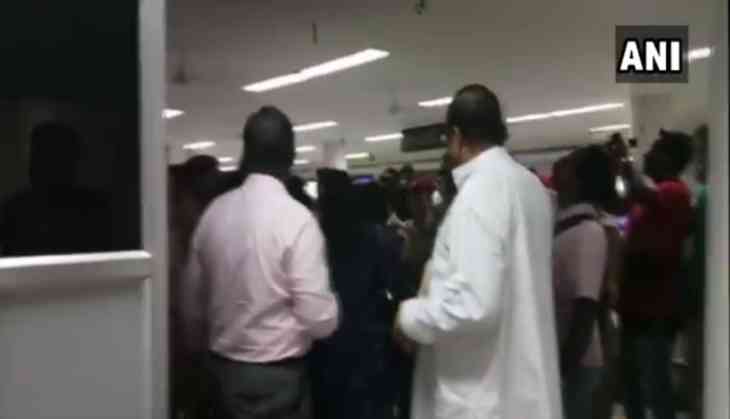 Days after the Assam NRC final draft list released, Mamata Banerjee's Trinamool Congress's (TMC) at least 6 MPs and two MLAs were detained by the cops at Silchar Airport in Kumbhirgram, Assam on Thursday over NRC issue. As per reports, they have been detained at the airport as a precautionary measure.
As per reportedly, the TMC leaders have been asked to provide assurance that they will not make any provocative speeches over National Register of Citizens (NRC) issue. According to a TMC spokesperson, the detained party leaders were brutally thrashed by Assam Police and there are also allegations that the police is asking them to hand over their mobile phones.
Watch: Trinamool Congress MP and MLA delegation detained at Silchar airport over NRC issue
When the delegation landed around 1 pm and were greeted by a large police, but the TMC lawmakers were stopped when they tried to exit the airport. They were stopped by a district official who said they "cannot go any further". They handed them a paper explaining that large gatherings were banned in the district from last night. "Nothing in this paper tells me why I can't go into town," said Rajya Sabha member Sukhendu Shekhar Roy, who was leading the delegation.
Our members were roughed up. Sukhendu Shekhar Roy has a pacemaker, he was also roughed up," said outraged Trinamool leader Derek O'Brien in Delhi. Women MPs were also hurt, he said, adding: "This is a super-emergency. What is going on?".
Reportedly, Farhad Hakim, Arpita Ghosh, Mahua Moitra, Mamata Bala Thakur and Kakali Ghosh Gastidar are among the 8 detainees. Even the party took to its official Twitter handle and tweeted: "The Assam government under Chief Minister Sarbanand Sonwal is terrified. We will fight till the end for the Maa Mati Manush of Assam."
Also read: