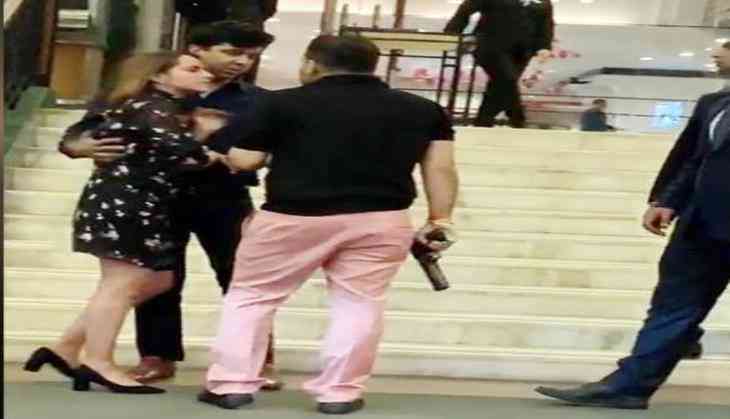 Ashish Pandey outside Hyatt Regency
Former BSP leader Rakesh Pandey's son, Ashish Pandey, who was seen brandishing a gun outside the 5-star hotel, Hyaat Regency in Delhi's VIP zone has approached Delhi's Patiala House Court to surrender.
Delhi police, after the video of the incident got viral, registered a suo-moto complaint in the matter and a look out notice was issued against Ashish Pandey.
The Delhi police had contacted UP police to cooperate in the matter and immediately, searches and raids were conducted by the UP police in Lucknow at the location and house of Rakesh Pandey and other areas as well.
Ashish's brother, Ritesh Pandey, who is currently an MLA from the Bahujan Samaj Party, issued a statement where he assured the police that he will cooperate in the investigation and that his brother has no criminal record as such.
He said "Ashish has no previous criminal record. We (Ashish's family) are not defending him. We are trying to get him presented before the investigation."
Ritesh later added that ""Even we want to know the truth. That is why we will cooperate with the probe."
He is blaming the media for sensationalizing the issue and connecting the incident with the entire family, which is highly unjust.
Ashish Pandey has approached Delhi's Patiala House Court for surrender. Aashish Pandey, son of former BSP MP Rakesh Pandey, was seen brandishing a gun outside Hyatt Regency on October 14. pic.twitter.com/y6NJYhf4Yf

— ANI (@ANI) October 18, 2018
The Delhi police has obtained a non-baliable warrant against Ashish Pandey and has also issued a notice to the hotel for negligence over the work.
I took the gun with me for safety.I didn't brandish it. It was hanging behind me all the time. I didn't even address that girl, she pushed me&made obscene hand gestures. I've faith in judiciary&so I decided to surrender. There is no history of police case against me:#AshishPandey pic.twitter.com/W30ogWtGF8

— ANI (@ANI) October 18, 2018
"Raids have been carried out at various places associated with Ashish Pandey and we will be able to arrest him soon," said Uttar Pradesh additional director general (law and order) Anand Kumar.
Also read: UIDAI clarifies the news over disconnection of 50 crore mobile numbers over Aadhaar card, says