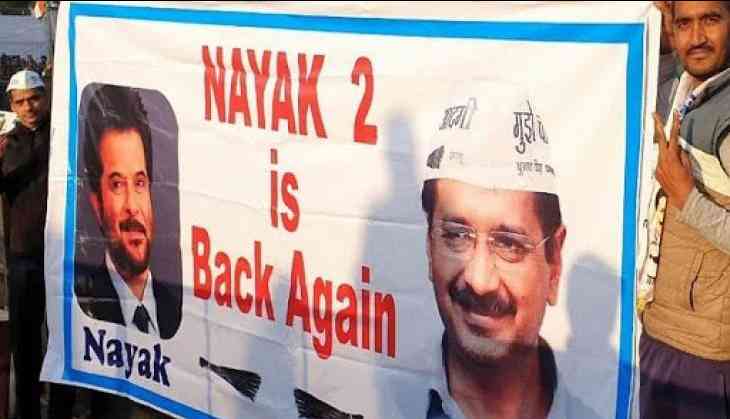 The Aam Aadmi Party is upfronting is primary blueprint thrust and Arvind Kejriwal's portrayal as a common man with innovative posters at Delhi's Ramlila Maidan, where the party headman will take oath as chief minister for the third consecutive time.
A poster at Ramlila Maidan has the text, 'Nayak 2 is back again'. It has a picture of Bollywood star Anil Kapoor on the left, while smiling Arvind Kejriwal is seen on the right.
The banner is a reference to Anil Kapoor starrer 'Nayak'. In the movie, the actor plays the chief minister of Maharashtra for one day and goes on a rapid anti-corruption drive.
Arvind Kejriwal led Aam Aadmi Party won 62 of the 70 seats in the Delhi assembly.
Arvind Kejriwal has invited Prime Minister Narendra Modi, seven BJP parliamentarians who represent the city and all newly elected BJP MLAs to his swearing in ceremony.
Also Read: Arvind Kejriwal to take oath as Delhi Chief Minister today
Also Read: Restrictions till 2 pm around Ramlila Maidan for Arvind Kejriwal's oath-taking ceremony