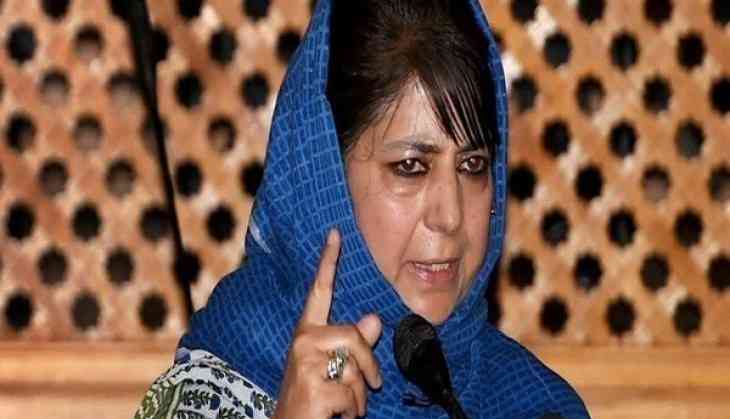 The Jammu and Kashmir's former chief minister and PDP chief Mehbooba Mufti have reportedly said that her party will stay away from the urban local body elections and the panchayat elections later this year in a move to protect Article 35A. "We will go to any extent to protect Article 35A," said Ms Mufti at a press conference in Srinagar.
Speaking on Article 35A, Mufti said that Jammu and Kashmir's people have suffered a lot and sacrificed and no one can fiddle with the validity of it.
"Situation linking panchayat polls to 35A case in Supreme Court has created apprehensions in minds of people. Party, therefore, urges the Govt to review its decision to hold polls at this juncture," said Mehbooba Mufti, PDP Chief.
"Looking at this situation we have decided to stay away from this process," Mehbooba Mufti added on panchayat polls.
Looking at this situation we have decided to stay away from this process: Mehbooba Mufti,PDP Chief on panchayat polls https://t.co/QyGfROprnG

— ANI (@ANI) September 10, 2018
Earlier, the National Conference chief Farooq Abdulla has already said it will boycott the panchayat polls and even the 2019 elections unless the centre takes steps to protect 35A.
"The core group National Conference has unanimously decided not to participate in these elections unless and until the government of India and the state government clarify their positions and take effective steps for protection of Article 35A in and outside the courts," said NC chief Farooq Abdullah on Wednesday.
While reacting to Farooq Abdullah's statement Ram Madhav, National General Secretary of the BJP said, "We want local body elections to be held in Jammu and Kashmir to provide democratic rights to the citizen of the state. Farooq Abdullah has always done politics and never made efforts to ensure the democratic rights of people. Now, that Modi ji is trying to do so he is speaking against it. If Farooq Abdullah is objecting to panchayat polls over 35A issue then why did he contest Kargil polls?"
Article 35A which gives special rights to the Jammu and Kashmir people and bars outsiders from owning immovable property has been challenged in the Supreme Court. In August, the top court deferred the case until January 2019.
Also read: Bharat Bandh: Vasundhara Raje govt cuts VAT on petrol and diesel by 4% as oppositions call nationwide protests over rising fuel prices