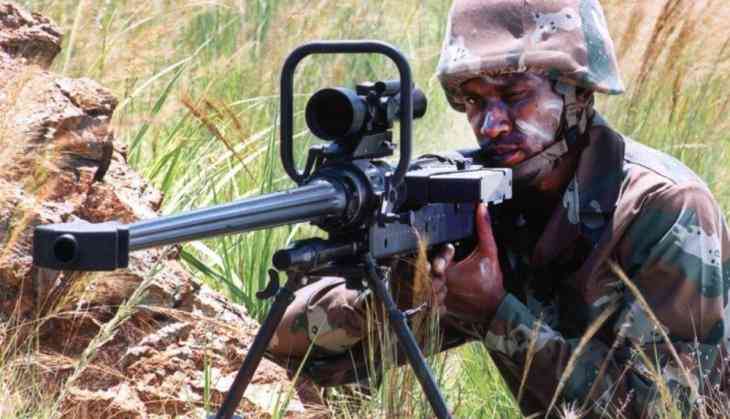 In retaliation to unprovoked ceasefire violations, the Indian Army on Saturday destroyed a Pakistan Army post opposite the Akhnoor sector on the Line of Control where the video evidence shows the Pakistani flag flying upside down as a signal of emergency or extreme distress.
"The Pakistani flag is flying upside down in the video taken yesterday In front of Akhnoor Sector where the enemy post can be seen completely destroyed," defence sources said.
An upside down flag is an SOS signal indicating extreme danger or distress, defence sources said.
The post was destroyed completely in direct firing by the Army at Pakistani positions which were carrying out action against own posts, they said.
Indian army action in Akhnoor sector came in retaliation to repeated ceasefire violations by Pakistan.
In the last one month after the Pulwama attack, India has been retaliating heavily to Pakistani ceasefire violations along the Line of Control in Jammu and Kashmir.
In the different actions undertaken by the Army on the LoC, our personnel have been able to inflict heavy damage to their posts and personnel.
"More than 10 Pakistani soldiers have been killed in our retaliatory action along the Line of Control where new sniper rifles have also been used to punish Pakistani posts aiding and abetting infiltration into India and firing at Indian posts," sources said.
After the air strikes by the Air Force in the Balakot town of Pakistan against the Jaish e Mohammed terrorist camp, Pakistan has strengthened its positions on the LoC and has been trying to attack Indian positions.
Meanwhile, an army jawan who was critically injured on Saturday in ceasefire violation by Pakistan in Poonch sector has succumbed to his injuries, army officials said on Sunday.
On Saturday, Pakistan had violated ceasefire in Poonch district at around 5:30 pm.
-ANI
#WATCH Indian Army video of Pakistani base destroyed in Indian firing in Akhnoor sector(J&K), Army sources say upside down Pakistan flag a signal for SOS (extreme danger/distress) pic.twitter.com/2srna7kS7P

— ANI (@ANI) March 24, 2019