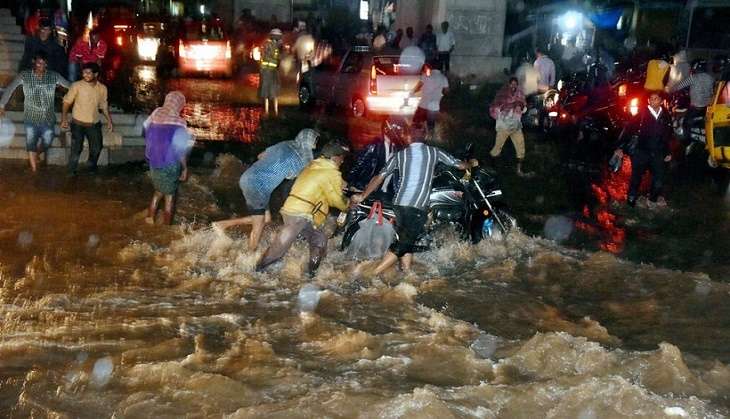 The state of Andhra Pradesh continues to reel under heavy rainfall, amid warnings from the Met department of a second low-pressure forming over the Bay of Bengal, that is expected to hit Hyderabad for the next five days.
The low pressure that formed over the Bay of Bengal, now persists over Telangana, and the adjoining areas of south Chhattisgarh and Vidarbha.
The deluge has already claimed the lives of at least seven people in Guntur district alone. Several others have been reported to be missing in the aftermath of the incessant rainfall.
The district is badly hit by heavy showers as around four thousand people were shifted to 30 shelters by the district administration from flood affected areas.
Roadways suffered the most with 300 kms of roads damaged, hampering traffic.
About 1.5 kms of railway track got breached due to rainfall, which is being restored on a war footing basis.
Hundreds of acres of crops were damaged in Koilakuntla and its surroundings. Cotton fields in Prakasam district, and those in Cherukuru near Parchur were flooded. Anantapur district received moderate rain with isolated heavy showers.
On Rajahmundry-Visakhapatnam and Addanki-Narketpalli highways vehicular traffic came to a standstill at several points. Roads along East Godavari, Vizianagaram, Prakasam, Kadapa and Kurnool districts also suffered extensive damage due to incessant rain.
River Krishna received heavy inflows after a long time, and all the 70 crest gates of Prakasam barrage in Vijayawada were lifted up to release a large volume of 1,33,350 cusecs of water into the sea yesterday.
Pulichintala dam recorded the highest inflow of water so far, discharging an amount of 1,84,500 cusecs of water from the dam.
Chief Minister N. Chandrababu Naidu took stock of the situation in flood-hit areas and instructed the officials to act promptly and swiftly with the help of NDRF teams and police to mitigate the damage to property and save lives.
He ordered Agricultural department officials to provide seeds to farmers with a subsidy of 80 % to whoever lost the crop. Drones will be used to assess the extent of crop loss.
--ANI