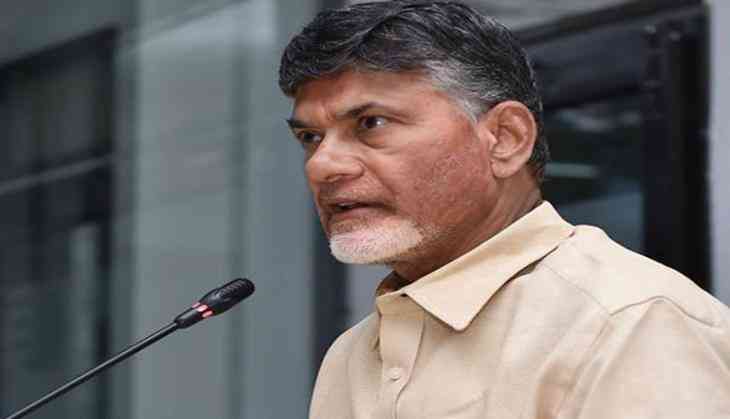 Chief Minister N Chandrababu Naidu and Make in India Korea Center signed a Memorandum of Understanding to set up Korea Industrial Complex in Andhra Pradesh.
The delegation led by the chief minister went to Busan city from Seoul in Speed Train to attend a business seminar.
Naidu wished the business delegates in Korean- "Aan Yong ho sei".
The Chief Minister's presentation was translated into Korean language and distributed to the industrialists, in order to attract investors.
"We will give first priority to South Korea in the matter of investments. We are developing 14 sea ports. Of them, six ports are already working vigorously. 13 percent of Indian sea coast are in AP," he said at the summit.
Naidu enumerated the progress marked in the state in the agricultural sector, as well as the industrial sector.
"Agriculture sector is always a big challenge in India. But Andhra Pradesh is achieving a double digit growth rate. We have recorded a whopping 25.6 percent growth in agricultural sector which no any other state in India could achieve," he said.
Naidu said the state government aims for Andhra to be one of the top three states in India by 2022, the best state in India by 2029, and world's destination with international standards by 2050.
The government's aim is to achieve 15 percent growth rate for 15 years, Naidu stated.
"We are working with the aim of 89 percent public satisfaction. We took family development and social development as indicators. We want to develop happiness index," he added.
In order to encourage industrialists, Naidu said the government is giving all necessary permissions within 21 days through hassle free single desk portal, and as of now, 23,414 permissions have already been given.
The Chief Minister further elaborated that Andhra Pradesh is the state with best connectivity with road ways, rail ways, sea ports, airports and other infrastructure, and also has the best industrial policy.
In automobile sector, companies like Isuzu, Kia, Hero, Bharat Benz, Amararaja, Apollo etc. are operating in Andhra Pradesh.
"Twenty years ago, I brought in many reforms. I built Cyberabad as additional city to the twin cities of Hyderabad and Secunderabad. Now Hyderabad is reaping the benefits. After bifurcation of our state, my work started from the scratch. Our journey began with crises, however I took it as an opportunity," Naidu said.
Naidu also praised Korea for developing "very fast" despite facing similar problems as that of Andhra Pradesh.
"Taking inspiration from you, we are passing on the path of development. I request your participation in building a new Andhra Pradesh. Our state has many resources. Thousands of kilometers of sea coast are one of the advantages. There are no labor problems, nor issues of law and order. We have a peaceful ecosystem for industries," he added.
"I will be available on a phone call or SMS text. I believe South Korea can be a confidential business partner to Andhra Pradesh. All of you come with each project and invest in our state," Naidu said.
Busan metropolitan city vice mayor Kim Young Wan addressed the Andhra Pradesh Chief Minister as a dynamic leader, and said there were many similarities between South Korea and Andhra Pradesh, and underlined the need for mutual cooperation in various areas like health and medicare, agriculture, renewable energy, sea ports, development of cities, and the like.
Indian ambassador to South Korea Doraiswami expressed happiness over Naidu's visit, and said Busan city and AP have many comparisons in work culture, usage of technology, development of ports etc. He also recommended Andhra as the best place for doing business in India, to the Korean industrialists.
Doraiswami further said that the land allotted to Kia motors in Anantapuram district was a rocky land.
"We thought it will take one year but Andhra Pradesh government cleared and flattened it in just three months," he added.
Later a short film on development works at the land allotted to Kia motors was screened.
During the Busan Business Seminar, Government of AP and Make in India Korea Center signed an MoU to set up Korea Industrial Complex in Andhra. Similarly, Andhra Pradesh Center will be set up in Busan city.
Later, AP Chief Minister interacted with Korean industrialists during the lunch.
Busan Vice Mayor and Naidu discussed the chances of mutual cooperation between fisheries university of AP and Pukyoung national university of Korea.
After lunch, the AP delegation went to Busan New Port that was started in 2006. The port officials gave a presentation describing its capabilities. Busan new port is operating with 500 ports from 100 countries.
-ANI