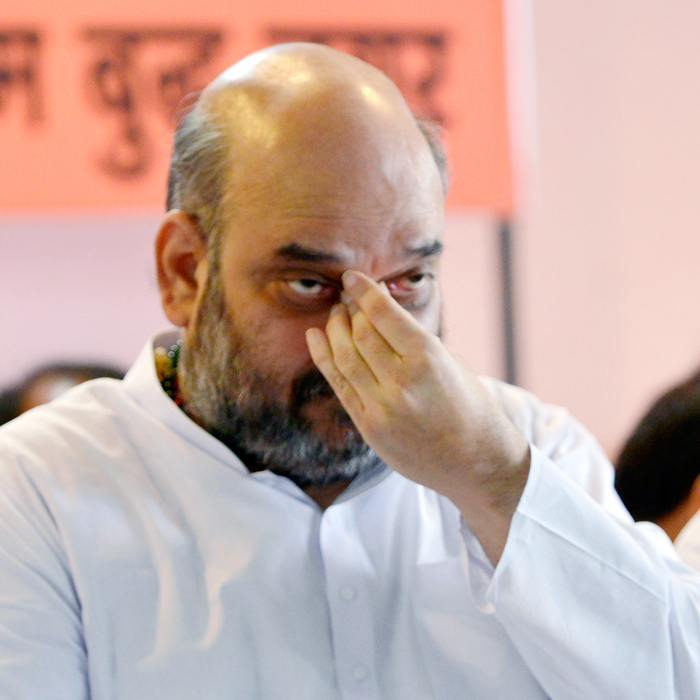 In a major security scare, BJP President Amit Shah and three other senior leaders were trapped in the lift of the state guest house in Patna for around 40 minutes.
The Outlook quoted BJP state President Mangal Pandey said: "The lift got stuck between the two floors and its metal doors also got jammed at around 11.30 PM last night. There was no lift operator or person capable of handling such emergency around. The mobile phones of those trapped inside were also out of range as they were in a closed box."
Shah was going from the state guest house to the first floor with party in-charge for Bihar Bhupendra Yadav, Secretary Nagendra Ji and General Secretary Saudan Singh.
CRPF personnel had to rescue him. After all other way of opening the lift failed, security personnel had to break open its door. Since Shah is a Z plus security holder, CRPF personnel always accompany him.
Pandey said they were unhappy with the arrangements made by the state guest house and it was "a gross dereliction of duty and irresponsibility" on its part.
He made a scathing attack on the Nitish Kumar government for "mismanagement" which resulted in the episode.
"The entire system seems to have collapsed in the state under present government," Pandey said.
Union Minister of State for Food Processing Sadhvi Niranjan Jyoti, who was here, suspected "conspiracy" and sought a probe into the incident.
"Nitish Kumar and Lalu Prasad would never succeed whatever they do against BJP leaders," she said.
Shah came to Patna on 20 August to participate in a forum organised by a vernacular daily. He was staying at the state guest house and was conducting meeting with party leaders in view of the forthcoming Assembly polls in Bihar.