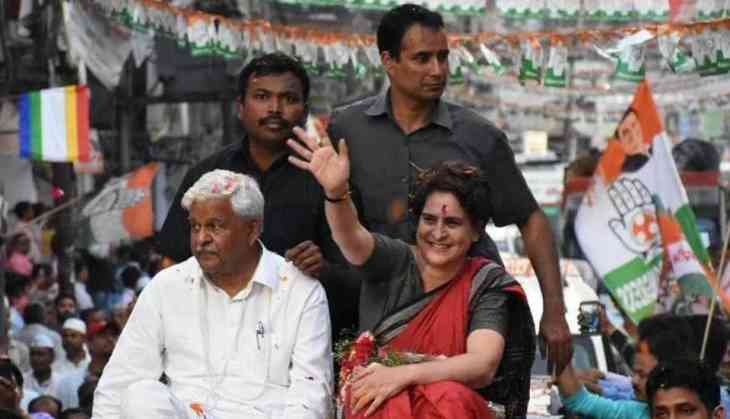 As the political corridors of Delhi ring a bell and the election bandwagon moves towards the Eastern Uttar Pradesh, Prime Minister Narendra Modi's constituency Varanasi has become a talking point as Congress workers remain on stand-by amidst the buzz over Priyanka Gandhi's candidature.
Congress has not announced any candidate for the Varanasi seat and the workers are yet to get in the poll mood as PM Narendra Modi will be holding a roadshow in the district, which will be followed by his nomination filing on April 26.
As Eastern Uttar Pradesh holds more than 40 seats in its pocket, the road to Delhi will be going through Lucknow this time as well. Congress, in January, had announced Priyanka Gandhi as its General Secretary in-charge of the UP East and speculations have been made since then, that she might contest the Lok Sabha polls.
Last month, during a rally, a reporter asked her about the same and she replied, 'if the Congress party demands, she would contest and why not Varanasi?'
प्रधानमंत्री श्री @narendramodi जी 25 अप्रैल 2019 को दोपहर 3 बजे वाराणसी में रोड शो करेंगे।

सीधा प्रसारण देखें

∙ https://t.co/vpP0MI6iTu
∙ https://t.co/KrGm5hWgwn
∙ https://t.co/lcXkSnweeN
∙ https://t.co/EyN23goWO7
∙ NaMoTV pic.twitter.com/150bLcg4M3

— BJP (@BJP4India) April 24, 2019
"A Congress worker came here this morning, climbed up the 24 steps to the office, but found it locked. After waiting for an hour, he contacted a senior leader who told him a meeting was being held at some other place," said a shopkeeper in Varanasi, as reported by The Indian Express.
In 2014, PM Modi had won 5.81 lakh votes and a thumping majority from the seat while Congress' Ajay Rai polled 75,614 votes. Dehi CM and AAP convener Arvind Kejriwal stood second in line and got 2.09 lakh votes. The SP candidate received 45,291 and BSP got 60,579.
Alsoread: 'Will give rosogollas, gifts but not votes,' replies Bengal CM Mamata Banerjee to PM Modi