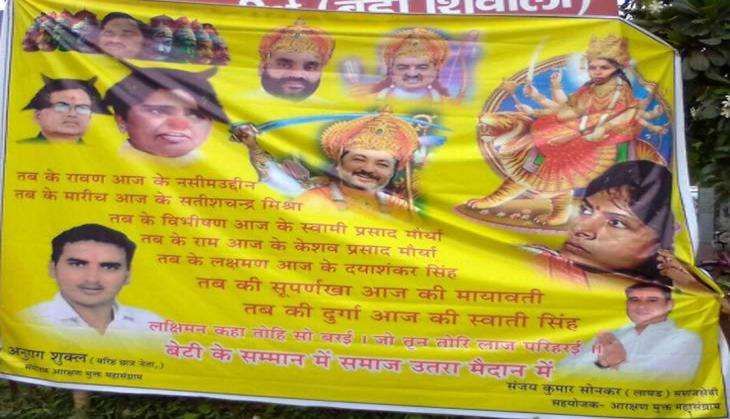 A poster that depicts BSP chief Mayawati as 'Shurpanakha' and BJP leadear Dayashankar Singh's wife Swati Singh as 'Durga' has courted controversy in poll-bound Uttar Pradesh.
The poster, that was put up in the Civil Lines area in Allahabad, also shows Satish Chandra Mishra as 'Maricha', Nasimuddin Siddique as 'Ravan', BJP state chief Keshav Prasad Maurya as 'Ram', ousted party vice-president Dayashankar Singh as 'Laxman', Swami Prasad Maurya as 'Vibhishan' and Swati Singh, Dayashankar Singh's wife as 'Durga'.
The poster - which bears the message 'beti ke samman mai, samaj utra maidan mai' - was issued by a student leader and office bearers of Arakshan Mukht Mahasangram, a pro-BJP organisation of the city that opposes the reservation policy of the government
"We oppose what Mayawati and her supporters have said about the family members of Singh and how the entire family has been tormented on the issue that's why we have termed Nasimuddin as Ravana and Swati Singh, the wife of former member of BJP, as Durga for her fight," The Times of India quoted student leader Anurag Shukla as saying.
He also defended Dayashankar's comment that led to widespread protests by claiming that the BJP leader had only meant that that Mayawati mixed politics with business. Dayashankar stirred up a storm a few days ago when he compared Mayawati with a 'sex worker'. His offensive comments included, "If someone comes with Rs 2 crore, she gives him a ticket. If somebody gives her Rs 3 crore, she cancels the tickets of the previous candidate and chooses him. Today her character is worse than that of a prostitute."
Also Read: UP poster wars: Yogi Adityanath rides a tiger, opposition leaders ride donkeys

In retaliation, BSP workers in Lucknow wrote objectionable things about Dayashankar, his wife, sister and their daughter. BSP workers and activists protested against the poster in front of Civil Lines police station, demanding that those responsible be arrested.