In what can be termed as an attempt to put an end to all the controversies surrounding Prime Minister Narendra Modi's educational degrees, President of the Bharatiya Janata Party Amit Shah and Finance Minister Arun Jaitley made all the details of the Prime Minister's educational qualifications public on 9 May.
Shah released the original degrees of the PM - an undergraduate degree from Delhi University and a Masters degree from Gujarat University. BJP's top brass also went on to demand an apology from Delhi Chief Minister Arvind Kejriwal for making false allegations against the Prime Minister.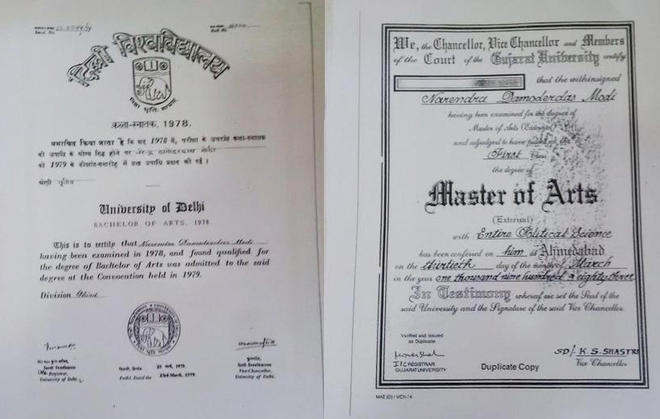 BJP4India/Twitter
AAP strikes back
Very soon, the Aam Aadmi Party held a press conference to state that the degrees released by the BJP members were fake.
These were the two important points raised by the AAP on this issue:
1. The name in the graduation degree is "Narendra Kumar Damodar Das" while the MA degree shows "Narendra Damodar Das." AAP demanded to see the affidavit used to change the name before the Prime Minister's post graduation.
2. The year mentioned in the graduation mark sheet is 1977, while the degree shows it to be 1978.
This is the timeline of the row:
April 28, 2016: Kejriwal hits out at Modi
Delhi Chief Minister Arvind Kejriwal urged Prime Minister Narendra Modi to make public proof of his educational qualifications and also condemned the Information Commission for allegedly aiding Modi in concealing his educational qualifications. He also wrote to the CIC requesting them to make the Prime Minister's degree public.
April 29, 2016: CIC orders Modi to share details of his degrees
Central Information Commission issued an order directing the Prime Minister to disclose his educational degrees.
The Delhi and Gujarat universities have been asked to disclose the Prime Minister's degrees.
CM Kejriwal had earlier said that he was ready to put all his details in public domain. He also demanded to know why the apex information body did not apply the same rule to secure information on Modi's educational qualifications - which has been a matter of public interest for a long time.
5 May, 2016: Kejriwal writes to the Delhi University Vice Chancellor
When Modi's degrees were not released even after the CIC order, Arvind Kejriwal wrote to the Vice-Chancellor of Delhi University, asking him to put the PM's educational degrees on the website.
My letter to VC, DU on the issue of PM's degree pic.twitter.com/EYZYZZXdFa

— Arvind Kejriwal (@ArvindKejriwal) May 5, 2016
Kejriwal continues to slam Modi on Twitter
DU refuses to show records of PM's degree. Why? My info- he did not do BA from DU. No records in DU. Degree published by some papers forged

— Arvind Kejriwal (@ArvindKejriwal) May 4, 2016
Someone asked info abt my degree from IIT Kgp. They immediately provided it. Becoz I have a degree from there(1/2) pic.twitter.com/2LMzmZasxS

— Arvind Kejriwal (@ArvindKejriwal) May 4, 2016
Why is DU refusing info abt PM's degree? Becoz he does not have it (2/2)

— Arvind Kejriwal (@ArvindKejriwal) May 4, 2016
No records in DU related to his enrolment, his degree, his marksheets and convocation

— Arvind Kejriwal (@ArvindKejriwal) May 4, 2016
Various media reports suggest that some of the Aam Aadmi Party leaders - including Ashutosh, Raghav Chadha, and Ashish Khetan - met the Chief Public Information Officer (CPIO) of Delhi University, Meenakshi Sahay, seeking evidence of PM Modi's graduation degree from the university.
9 May, 2016: Arvind Kejriwal calls the degree "Farzi"
The Bharatiya Janata Party has not yet responded to Aam Aadmi Party's allegation against PM Modi's degrees. However, Arvind Kejriwal yet again took to Twitter on 9 May asking whether Delhi University had sealed Modi's degrees. He also called the degrees "Farzi" and called for inspection.
Docs in DU hv been sealed. BJP presents Farzi docs in a PC n gets real records sealed? Why? Implement CIC order. Allow inspection

— Arvind Kejriwal (@ArvindKejriwal) May 9, 2016
Meanwhile, The Delhi University Vice Chancellor, Yogesh Tyagi denied the allegations and told PTI that he had not issued any order to seal Prime Minister's Ministers records.