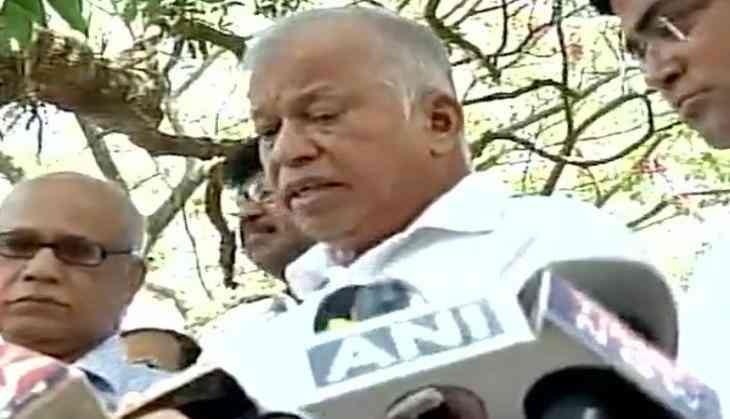 Welcoming the Supreme Court's decision to conduct a floor test in the state assembly, Goa Pradesh Congress Committee chief Luizinho Faleiro on Tuesday urged all like-minded parties to join hands with the grand old party while alleging that the BJP was indulging in horse-trading for government formation.
Faleiro said the people of Goa have given their mandate to the Congress, which emerged as the single largest party.
"The Governor, who is the custodian of law and Constitution, is supposed to invite. We submitted a representation on 12th to the Goa Governor... We wrote in our letter that BJP has lost its mandate so they should not be invited. When she didn't invite us, we went to the apex court. The apex court accepted our petition," he said.
"We have mentioned very clearly that we have majority and will prove on the floor of the house. There is lot of horse trading," he added.
Denying that he insisted on being the state Chief Minister, Faleiro said he didn't come to Goa with an agenda.
"I was in-charge of five Congress states and was requested to go to Goa by the end of October 2014 and build the party practically from scratch again by Sonia Gandhi. My reward is that we are up from 9 MLAs in 2012 to 17 this time," he added.
The Supreme Court today refused to stay the swearing-in of the former defence minister and ordered a floor test in the state assembly at 11 a.m. on March 16.
The apex court has directed that all pre-requisites for holding the floor test should be completed by tomorrow including what is required by the Election Commission.
To accommodate this, the court ordered the Governor to summon the House tomorrow at 11 a.m.
This development came after the Congress moved the apex court challenging the scheduled swearing-in of Manohar Parrikar.
The Supreme Court bench, headed by Chief Justice of India (CJI) J.S. Khehar, observed that numbers should determine the single largest party in the state.
The apex court further told, petitioner, the Congress that it should have gone to Goa Governor Mridula Sinha rather than raising the matter before the judiciary.
Senior advocate Harish Salve represented the Central Government during the hearing in the apex court, which ordered a floor test.
Governor Sinha had invited Parrikar to form the next government in the coastal state after he submitted a letter of support of 21 legislators.
Three MLAs of the Goa Forward Party, three of the Maharashtrawadi Gomantak Party (MGP) and two Independents have pledged their support to Parrikar.
The BJP, which won 13 seats in the 40-member Goa Assembly, managed to garner support from other parties and Independents to attain majority under Parrikar.
The Congress won 17 seats in the recently concluded polls.
-ANI