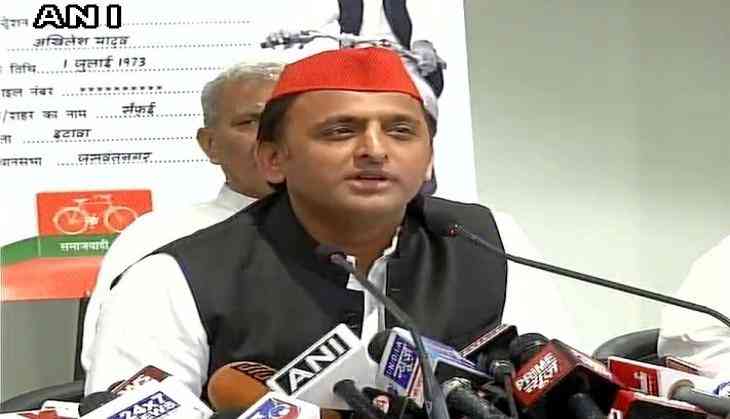 Akhilesh trains guns at Yogi Adityanath, scoffs at state govt.'s initiatives (ANI)
In a seemingly sarcastic mood, former Uttar Pradesh chief minister Akhilesh Yadav launched a barrage of veiled attacks against the Bharatiya Janata Party (BJP)-led state government and accused them of exercising blatant bias when it came to state politics.

"The Bharatiya Janata Party (BJP) does not consider me a Hindu. I think the first thing I should do after visiting a temple is tweet a photo of the same as a proof," Akhilesh on Saturday said, while addressing a press briefing here.

Akhilesh further said that he was thinking he should start wearing colours according to the days.

"I think I should wear colours according to days. On Monday, I should wear the colour supposed to be worn on the day...on Thursday, I should wear yellow. And on Sunday? I guess a t-shirt and a pair of shorts? That's what is supposed to be worn on a Sunday. Right?" he said.

Taking a jibe at Chief Minister Yogi Adityanath's brainchild "anti-Romeo squad", Akhilesh quipped that many innocent men were also being beaten due to this.

"Nobody told the real story of Romeo. He had consumed poison. And today, God knows how many Romeos are being beaten up," said Akhilesh.

Turning his head towards the heated issue of ban on cow slaughter, Akhilesh questioned the move of ban on cow slaughter only in Uttar Pradesh.

"In Madhya Pradesh, Maharashtra, people are eating whatever they want to. In north-east also, there is no restriction. Why is the restriction put only in Uttar Pradesh?" said Akhilesh.

Akhilesh further said that it was shown that the meat exporters met the government and things were sorted, but no picture of the Hindus running slaughterhouses was shown.

"I am waiting for those photographs to be released," he stressed.

The Samajwadi Party president also went on to accuse the BJP of winning the elections through deceit. He asserted that the Samajwadi Party will play an important role in any future alliance, if made.
ointing out at the BJP's poll promise of waiving off farmers' loans, Akhilesh said the farming community was fooled by the saffron party.
"A farmer said, it is on record, that the way BJP formed the government by dividing Hindu-Muslim, similarly it divided us on the basis of waiving off loans," he said.
Akhilesh also demanded an investigation into the row surrounding the Electronic Voting Machine (EVM) tampering, urging for polls to be conducted through ballot paper system.
-ANI