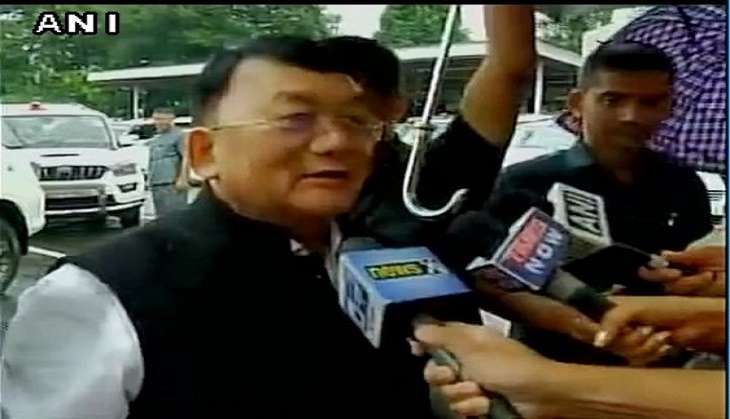 Ahead of today's floor test, Nabam Tuki resigned as the Congress Legislature Party leader and Pema Khandu has been elected as the new CLP leader
If the Congress wins the floor test, Khandu is most likely to become the next chief minister of Arunachal Pradesh.
"You all know that the CLP is in agreement and Pema Khandu will be sworn in as the chief minister," said Congress MLA Kameng Dolo.
A meeting is currently underway following acting Governor Tathagatha Roy's directive to hold the floor test today. Rebel Congress MLAs are also present at the meeting.
Rejecting Tuki's request to provide some more time to hold the floor test to prove his majority, Governor Tathagata Roy said the floor test would go ahead as scheduled.
Tuki, addressing a letter to the Governor had sought at least 10 days for the floor test, but Governor Roy declined his request stating that in view of the upcoming monsoon, which might lead to rainfall and landslides, the deferment of floor test will be difficult.
"I thank you and your Home Minister for your kind visit to the Raj Bhawan. I congratulate you on your resumption as Chief Minister in obedience of the Hon'ble Supreme Court's orders. I have given my most careful consideration to your request for not summoning the state legislative assembly for the purpose of proving your majority on the floor of the House," the letter said.
"I regret I am not in a position to agree with your submission made in your above letters and during our meeting. You appear to have contended that the notice given to you for summoning the Assembly is too short, for certain reason," it added.
Governor Roy further said that with the means of transport and communication now available, he does not see much difficulty in the MLAs attending a session of 16 July.
"Monsoon will not abate as days go on but will intensify. These may lead to landslides and/or heavy fog in the coming days. Thus it is quite possible that granting more time may worsen things," he added.
"I do not consider this to be a serious objection at all. We all do things on holidays when circumstances so warrant," he added.
The Governor's directive came a day after the Supreme Court, in a historic verdict on Wednesday, restored Tuki as Chief Minister, a position he lost last December when Congress rebels, backed by the Bharatiya Janata Party (BJP), staged a coup.
Tuki-led Congress government was dismissed following days of turmoil after 21 of its 47 legislators rebelled against the chief minister.
Eleven BJP MLAs backed the rebels in the bid to upstage the government. Later, 14 rebel Congress MLAs were disqualified.
-ANI