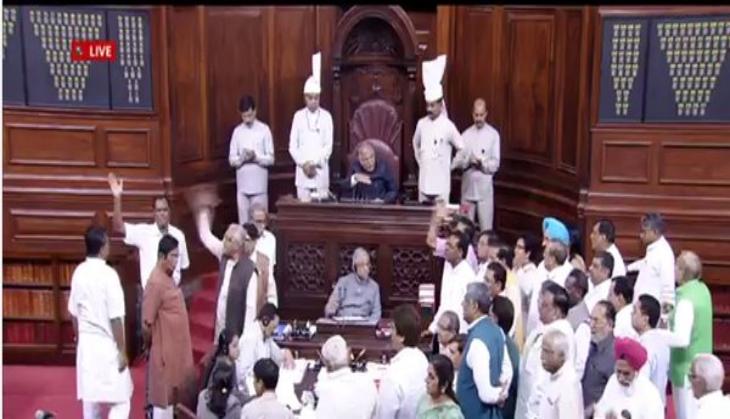 Rajya Sabha on 26 April was adjourned twice following the commotion created by Congress and the ruling Bharatiya Janata Party over the AgustaWestland chopper scam as Subramaniam Swamy sought to drag Congress President Sonia Gandhi's name. 
However, Gandhi's name was later expunged by Deputy Chairman PJ Kurien.
Swamy had raised the issue through a zero hour notice, his first intervention since he took oath in the House on Tuesday and referred to the allegations made by Christian Michel, the middleman in the scandal, through a letter in the High Court of Italy.
The naming of Gandhi led the Congress members to angrily storm into the Well, with a handful even moving closer to the treasury benches. Members of the treasury benches also got up on their seats to counter the opposition.
Fearing an ugly showdown, marshalls stepped into the Well to act as a wall between the opposition and the ruling side. Before things got out of hand, Deputy Chairman PJ Kurien adjourned the House for 10 minutes.
Read More: AgustaWestland chopper scam - Congress is not afraid, let BJP name me, says Sonia Gandhi
When the House reassembled, Kurien expunged Swamy's reference to Gandhi saying he should not name a member who cannot come and defend himself or herself. "I am not admonishing you as this is your first speech in the House" after being nominated to the Upper House. "But the name is expunged," Kurien said.
As Congress members continued to raise slogans from the Well, the Deputy Chairman again adjourned the House till noon.
During the 10 minute break, Swamy was surrounded by BJP members, seemingly complimenting him for provoking an angry reaction from Congress. Defence Minister Manohar Parrikar was seen exchanging notes with Swamy. HRD Minister Smriti Irani too walked up and spoke to him.
An Italian court, the Milan Court of Appeals, had earlier observed that there was "reasonable belief that corruption took place" in the 2010 VVIP helicopter deal and reportedly, former Indian Air Force chief SP Tyagi was involved in the corruption. These revelations sparked controversy and the BJP began cornering Congress, which has been targeting the ruling government on the Uttarakhand crisis.
-With PTI inputs