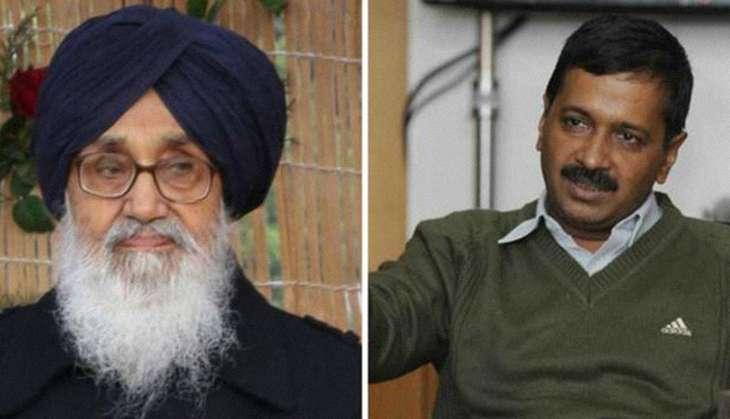 The fight between debutants in Punjab elections - Aam Aadmi Party - and the ruling Shiromani Akali Dal just got weirder. And nastier.
Following the Udta Punjab row and AAP stepping up its attack on the drug addiction situation in the state, Punjab Chief Minister Prakash Singh Badal has attacked Delhi Chief Minister Arvind Kejriwal on his Haryana origins.
According to a report in The Pioneer, while speaking at a Sangat Darshan programme in Fatehgarh Churian Assembly, Bhagowal, Badal said:
"Since Kejriwal hails from Haryana, he was naturally inclined towards safeguarding the interests of his state."
He also said that Kejriwal wanted to come to power in the state with the purpose of accruing benefits for his native state, Haryana, and not for the welfare of Punjab.
Kejriwal government's stand on the Sutlej Yamuna Link Canal, a major cause of dispute between Haryana and Punjab, has become a reason for its opponents to attack it. The Kejriwal government had on 4 April filed an affidavit in the apex court supporting Haryana's stand on completing the SYL canal.
This has led to Badal saying that if Kejriwal came to power, the state would become a "desert". And thus started the water war.
AAP, which is fighting its maiden elections in Punjab, is trying to make inroads in the state by playing up the issue of corruption and drug addiction in the state. It has created considerable buzz in the state, with the Delhi Chief Minister campaigning in Punjab, much in advance.
Badal's statement makes it evident that the party considers AAP a major opponent. However, it remains to be seen if the SAD's attempt at projecting Kejriwal as an outsider will be effective in countering his tirade against alleged corruption and drug addiction in the state. Or, whether the SYL project and the Haryana angle makes things difficult for AAP in Punjab.