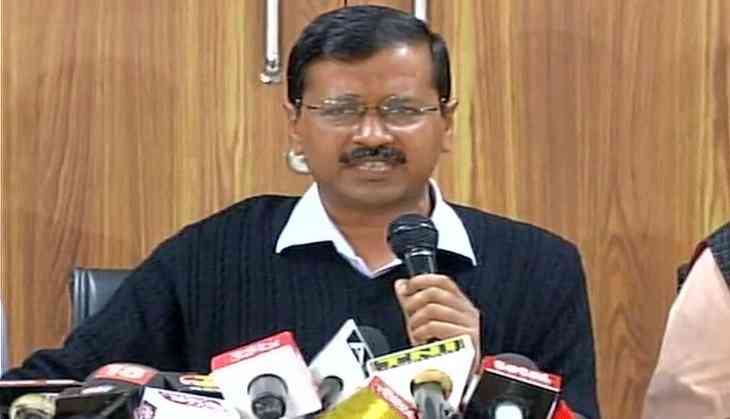 Delhi Chief Minister and Aam Aadmi Party (AAP) national convener Arvind Kejriwal on Wednesday alleged that the Electronic Voting Machines (EVMs) were tampered during the recently conducted assembly polls in the five states which ultimately resulted in his party's dismal show especially in Punjab.
Addressing a press conference here, Kejriwal suggested that the Election Commission needs to relook at the use of EVMs in the electoral process until faith is restored in it.
"Many said that there is anger against the Akalis and AAP is sweeping polls, still AAP got 25 percent votes and SAD got 31 percent votes. How is it possible? Even in Malwa, we got thrashed and Congress won there. How is it possible?" Kejriwal asked.
"We conducted a survey of various electoral booths in Punjab. For example, in booth number 103 in Sujanpur, village Gosaipur, we got only two votes. We had five volunteers there and they have 27 family members who are even ready to take oath they had voted. So, where have their votes gone? There are various other booths as well where we have got two or three votes only," he added.
Kejriwal further said is it possible through the EVMs that 20-25 percent vote share meant for the AAP was transferred to the SAD-BJP alliance.
The AAP national convener insisted it is the Election Commission's responsibility to keep people's faith in EVMs.
"They cannot shirk their responsibility," he said.
"We know it is too late to declare Punjab and Goa elections void but this is for future that faith has to be restored in the electoral process," he added.
Kejriwal further asked the Election Commission to count slips of Voter-Verified Paper Audit Trail or VVPAT and match it with the figures of EVM results.
"If it matches, people's trust will increase. They will understand that EVMs are trust worthy and they cannot be tampered. We will write to the Election Commission to count the slips of VVPAT and match it with figures of the EVM results in all places in the five states and make the results public to restore faith," he said.
VVPAT is a method of providing feedback to voters. It's completely an independent verification system. For those uninitiated, VVPAT is a printer-like machine attached to every EVM that allows the voters to verify that their vote has been cast correctly.
"The Supreme Court has said that EVMs are vulnerable and are prone to tampering, we aren't saying it," Kejriwal asserted.
He also pointed out that several developed countries in the West have moved away from using the machines and are back to the ballot system.
"The developed countries have given up EVMs. Should we not rethink?" he asked.
"Even the BJP, including Advani ji, had said that EVMs can be tampered. People who tamper EVMs, they should answer why they didn't do so in Delhi and Bihar? Now as they are in power, the BJP says that EVMs are tamperproof," he added.
Bahujan Samaj Party supremo Mayawati had earlier also put the onus on the EVMs for her loss in the Uttar Pradesh Assembly elections, saying the machine accepted votes only in favour of the BJP.
"The shocking result of the assembly elections indicates that the EVMs accepted votes only in favour of the BJP," Mayawati told a press briefing in Lucknow.
The former Uttar Pradesh chief minister said that the incident of manipulation of the EVM machines had been raised earlier also but no one paid attention to it.
"After the results in Uttar Pradesh and Uttarakhand, all opposition parties should think about it more seriously," Mayawati said.
"Most votes in Muslim majority constituencies have gone to the BJP, which makes it evident that the voting machines were manipulated. How can it be possible that even after not nominating a single Muslim candidate from Muslim dominant region, the BJP won that seat?" she asked.
However, the Election Commission had asserted that there is "no merit" to the BSP's complaints over the EVM possibly being tampered with.
-ANI