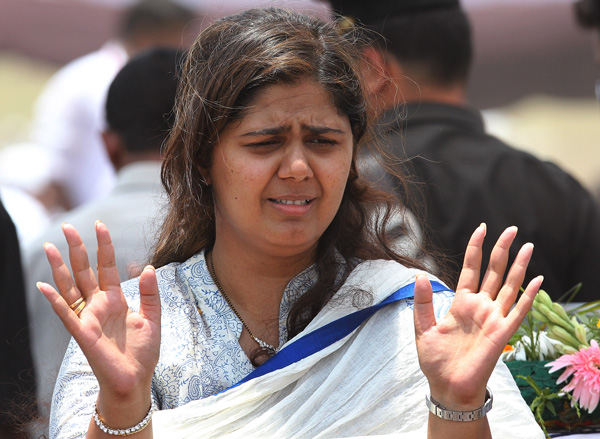 Maharashtra rural development minister Pankaja Munde is being attacked by the Congress and Twitterati again, after a member of her staff was seen carrying her slippers during her visit to drought-affected areas of Maharashtra."
This incident shows her high-handed attitude," said a Congress spokesperson.
When did the incident happen?
During her visit to Sonpeth in Parbhani district, Munde took off her slippers and walked bare-footed on the muddy road. A man picked up her slippers and followed her. This caught the attention of the media.
Munde's take
Munde said that the man was in her personal employment and not a government servant.
She said, "The media sees that I removed my chappals (slippers) and somebody carried them. But did the media see the problems I had to endure while walking bare feet? And I wasn't even aware that somebody had picked up my chappals. I learnt that later. The real news here is the drought and the condition of farmers."
Opposition's take
Congress spokesperson Al-Nasser Zakaria said the incident belied Munde's claim that she was sensitive to the plight of poor.
He said, "Her attitude shows the government in a bad light. This only shows her high-handedness. What good will she do for a poor farmer when she makes a poor person carry her slippers? All her claims of serving the poor have fallen flat."
(with inputs from PTI)