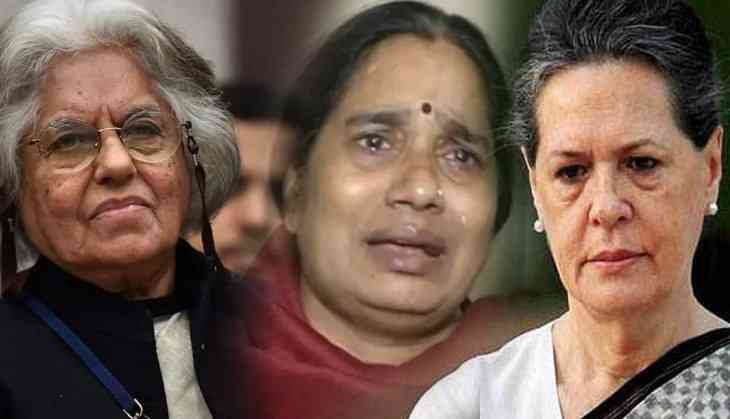 Senior advocate Indira Jaising on Friday urged the mother of Nirbhaya gang rape-murder victim to forgive the convicts in the 2012 gang rape case.
Taking to twitter the senior advocate said: "While I fully identify with the pain of Asha Devi I urge her to follow the example of Sonia Gandhi who forgave Nalini and said she didn't want the death penalty for her. We are with you but against the death penalty."
Nalini was arrested and convicted for her role in the assassination of former Prime Minister Rajiv Gandhi in 1991.
Indira made her request after the victim's mother Asha Devi expressed her disappointment when a Delhi court postponed the date of the hanging of the four convicts.
However, the victim's mother responded to the advocate's remark and said' "Who is Indira Jaising to give me such a suggestion? the whole country wants convicts to be hanged."
"Just for people like her (Indira) justice is not served to rape victims," she added.
Worth mentioning here, on Friday Nirbhaya's mother, criticized the courts and the govt and said that the same people who had in 2012 gone around practicing in rallies and raised slogans on women safety are playing with the death of her daughter for their political gains.
On Friday afternoon a Delhi Court issued a fresh death warrant against Nirbhaya convicts and said the execution will happen on February 1.
The new death warrant was put out after President of India rejected the mercy petition of one of the convict Mukesh Sing.
Vinay Sharma, Mukesh Singh, Akshay Kumar Singh and Pawan Gupta were to be executed at Delhi's Tihar Jail on 22nd January at 7 am. The trial court judge had declared last week, signing a death warrant seven years after a young medical student was gang-raped on a moving bus, tortured and killed.
Also Read: Nirbhaya case: One of the convicts attempts suicide in Tihar jail
West Bengal BJP chief Dilip Ghosh calls anti-CAA intellectuals 'devils' and 'parasites'
2012 Delhi Gang-Rape Case: Delhi court issues fresh death warrant against Nirbahaya convicts; execution on Feb 1