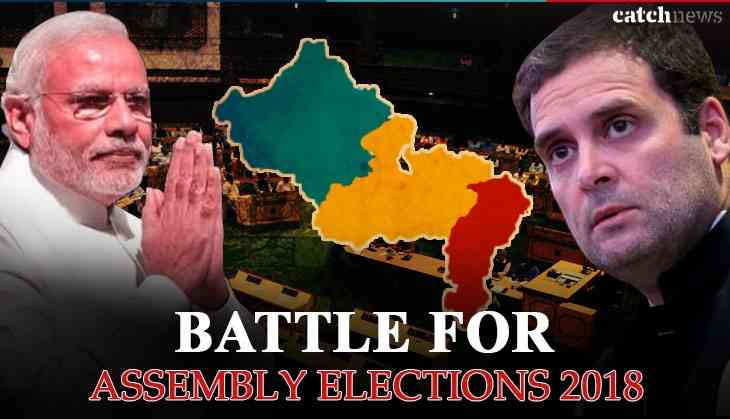 A recent survey has been released by C-Voter and ABP news which must be a great shock for Modi ruling party. Because in the survey released by the two organization depicted that the BJP will be going to lose in the three states i.e. Rajasthan, Madhya Pradesh and Chhattisgarh in the upcoming 2018 Assembly Elections.
Reportedly, this survey has been conducted by ABP news and C-Voter from 1st June to 10th August and at least 27,000 people were questioned about the forthcoming elections.
According to the latest survey, Congress is all set to replace BJP in MP and Rajasthan with a huge margin, especially in these two states. Also, in Chhattisgarh, BJP going to face the defeat.
Besides, the huge loss, BJP likely to win in the 2019 Lok Sabha elections because of the Prime Minister Narendra Modi's magic in the country.
However, the opinion poll conducted by ABP news and C-Voter predicted that the Congress will win a clear majority in all the three states. Also, Congress performance in 2018 Assembly Elections would definitely benefit the party in 2019 Lok Sabha Elections as well.
As soon as this reports come out publicly, people on social media expressed their views in a different way.
Here are some reaction of Netizens:
Take all polls with a grain of salt (especially this far out), but if Congress really does beat BJP in three Hindi heartland states it will reset the table for #2019 general election. https://t.co/Jmjsxim4l8

— Sadanand Dhume (@dhume) August 14, 2018
#CongressIsWinning
People are fed up with jumlas of BJP govt.

ABP News/C voter survey predicts decimation of BJP .

👇👇👇 pic.twitter.com/Gv6vr2MK0g

— K . Chandrakumar 🤔 (@kurup62) August 14, 2018
Lynching, depreciating ₹, unsafe women, people are fed up of this and ABP Survey reflects the same.#CongressIsWinning

— Roman D'souza (@romandsouza) August 14, 2018
ABP Survey Chhattisgarh congress- 54 Bjp-33 #CongressIsWinning pic.twitter.com/glzYHsjit8

— sanjai (@sanjairam) August 14, 2018
A recently-released survey conducted by C-voter and ABP news stated that Congress is winning Rajasthan, Madhya Pradesh and Chhattisgarh, that too with a huge margin! #CongressIsWinning

— Rajasthan Pradesh Mahila Congress (@RajasthanPMC) August 14, 2018
ये क्या हैं? कोई कांग्रेस को दिखा दो।
Karnataka Election abp news survey..... pic.twitter.com/ATphM63KWw

— Dinesh singh (@Dineshs86897928) August 14, 2018
This is what ABP and CSDS survey said about UP Assembly polls in 2017.
Then BJP won 312 and Congress won 7 seats. 😂😂 pic.twitter.com/NAansm2XnK

— Onkar Pandey (@iOnkarPandey) August 14, 2018
Well, it's just a survey the final result will come out after the battle between the parties in the upcoming Assembly Elections at the end of this year.
Watch Video:
Also read: ABP News-C voter survey: Congress will rule over Modi-led BJP government in Rajasthan, MP and Chhattisgarh in Assembly Elections 2018