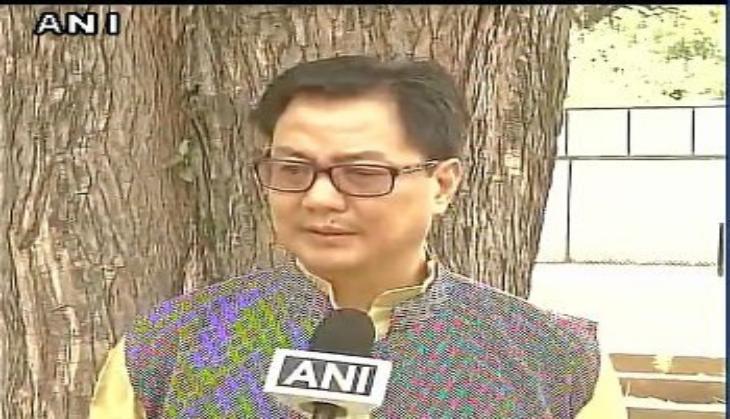 Union Minister of State for Home Kiren Rijiju today asked Delhi Chief Minister Arvind Kejriwal to allow an 'impartial' probe into NDMC officer MM Khan's murder case by not giving it 'political colour' and added that the ruling Aam Aadmi Party (AAP) government should realise that they are no longer a street organisation.
"The AAP, which is the ruling party of Delhi, have to realise that they are no more a street organisation who can say anything which is not in tune with the constitutional provision. While the investigation is on, the AAP and the Delhi Chief Minister continues to attack the Delhi lieutenant government and some other people. It is very unbecoming on the part of the Delhi government. While the case is being investigated if you try to draw a political colour to it then it will dilute the case," said Rijiju.
Rijiju said the Centre has full faith in the Delhi Police, and therefore, is making 'good progress' in the case.
"They (AAP) are the ruling party and they must behave in that way. The matter related to MM Khan murder case is being investigated fairly and impartially by the Delhi Police. And we have full faith in Delhi police. We have full faith in LG and Delhi Police that the truth will come out and the guilty will be punished," he added.
He added that the Delhi government headed by the AAP is playing politics and is throwing away great opportunities they have received from the people of Delhi to serve them and work for them.
As controversy rages over the MM Khan's murder, the Delhi police had yesterday claimed it is conducting an impartial probe into the matter and gave a clean chit to BJP MP Maheish Girri and NDMC vice-chairman Kanwar Singh Tanwar.
AAP had earlier alleged that lieutenant-governor Najeeb Jung's role in the Khan case was 'suspicious' and demanded his arrest.
"His (Jung's) role is suspicious in the case. Why had he written to the NDMC, seeking action against Khan? We demand that the L-G be arrested and sacked from his position,"AAP Delhi unit convener Dileep Pandey had said.
LG Jung's office had yesterday issued a statement calling the AAP's allegations as "frivolous" and said the murder was a grave tragedy for Khan's family.
"Everyone understands that the claims of the AAP are frivolous and, therefore, the attempt to draw political mileage from this tragedy is sad," a statement from Jung's office said.
The statement clarified that a letter was submitted by Girri to the L-G on 10 May, stating that in any dispute between the Licensee and the Licensor, in this case regarding that of a prominent hotel in central Delhi, arbitration would rest before the L-G under Clause 54 of the License Deed.
This letter was forwarded to the Chairperson of the New Delhi Municipal Council "for necessary action as per law".
-ANI