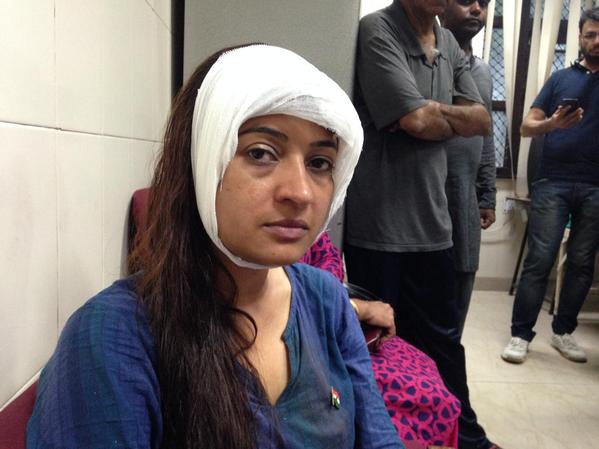 Alka Lamba, MLA of Aam Aadmi Party in Delhi was attacked by unidentified men while she was in a meeting with drug addicts in Kashmiri Gate area on 9 August. She was immediately rushed to the Aruna Asaf Ali Hospital.
She took to Twitter and accused the police of not coming forward to her rescue.
नशे के खिलाफ लड़ाई का अंजाम ... मुझ पर हमला कर मेरा सिर फाड़ दिया गया, खून बहने के वावजूद भी मैं मैदान नहीं छोडूंगी.. अगस्त क्रांति दिवस..

— Alka Lamba (@LambaAlka) August 9, 2015
AAP leader Ashutosh also expressed his anger on the micro-blogging site, alleging that the man who attacked Lamba works at a local BJP leader's shop.
She was targeted as she was the only one who got hit in crowd. It's deep conspiracy. AAP will fight back. pic.twitter.com/N48JpeW6xQ

— ashutosh (@ashutosh83B) August 9, 2015
Locals told us-Man,attacked Alka lamba was working in Sweet shop. shop is owned by present BJP MLA Om Prakash Sharma. pic.twitter.com/8bTzoJbpFu

— ashutosh (@ashutosh83B) August 9, 2015
Arvind Kejriwal tweeted "proud of you Alka" and congratulated her for her efforts.