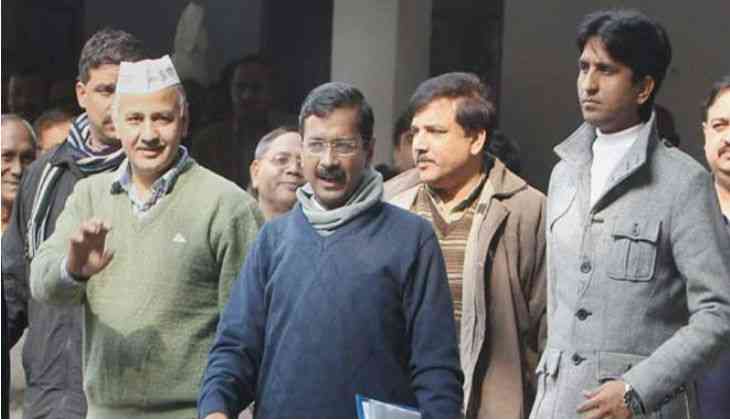 AAP lost its 'basic premise' of being against corruption: Congress
Terming ousted Aam Aadmi Party (AAP) leader Kapil Mishra's allegations against Delhi Chief Minister Arvind Kejriwal as 'very serious' in nature, the Congress Party on Monday said the party had lost its basic 'agenda' to fight against corruption.
Congress leader Ajay Maken told ANI that investigation and serious cognisance must be taken of the charges made by Mishra.
'It is a very serious charge that Kapil Mishra has levelled. Kejriwal's own colleague is putting such allegation on him then it is a very serious charge and it should be investigated. This is not a single allegation that has been made. Out of a total of seven, who had taken an oath to fight against corruption, six have been removed so far. It explains that the party has lost its basic premise of being against corruption,' he added.
Maken further asserted that the AAP leaders have a different explanation of corruption when they are in opposition and different when ruling.
Meanwhile, the engaging feud in the AAP took an interesting turn on late Sunday night when Mishra elaborated on his allegations against Delhi Health Minister Satyendra Jain and claimed that he would soon go to jail.
Mishra also said that he would give the names of two party leaders to the Anti-Corruption Bureau (ACB) in connection with the Tanker Scam.
'I am going to the ACB office on 11 a.m. tomorrow morning. I am going to give two person's names to them in connection with the Tanker Scam - Ashish Talwar and Vibhav Patel,' Mishra said.
'Kumar Vishwas will believe me the day Satyendra Jain goes to jail. I said this to him too,' he added.
Mishra had earlier in the day made a shocking revelation, alleging that he 'saw' Jain gave Rs. 2 crores to Kejriwal.
'Day before yesterday, I saw Satyendra Jain giving Rs. 2 crores to Arvind Kejriwal and I wasn't able to sleep the entire night,' he said in a press briefing after meeting Lieutenant Governor Anil Baijal.
Mishra also claimed that he urged the Chief Minister to disclose where he got the money from.
'There are several allegations of money laundering and black money against Satyendra Jain which are known to all. It is known to all that before holding the post of Delhi Cabinet Minister and after taking the oath, he gave a prominent position to his daughter and other relatives,' he said.
Pledging to remove corrupt people from the party, Mishra said that he will go to all the higher authority and make the revelation about these things.
However, Deputy Chief Minister Manish Sisodia flatly rejected the charges as 'absurd and baseless'.
Earlier on Saturday, shortly after being removed from the Delhi Cabinet, Mishra said he may have been axed for saying he would submit the names of those people involved in the tanker scam to the Anti-Corruption Bureau (ACB). He had said he would expose the names involved in the tanker scam on Sunday.
However, sources close to Kejriwal claim that Mishra did not meet the Chief Minister and neither had he submitted any papers related to the tanker scam.
He also denied that he was ousted for supporting AAP leader Kumar Vishwas. Mishra tweeted that he was the only minister who has not come under the CBI scanner and has not been charged with corruption.
This decision came soon after the AAP suffered a humiliating defeat at the hands of the BJP in the recently concluded MCD polls.
-ANI