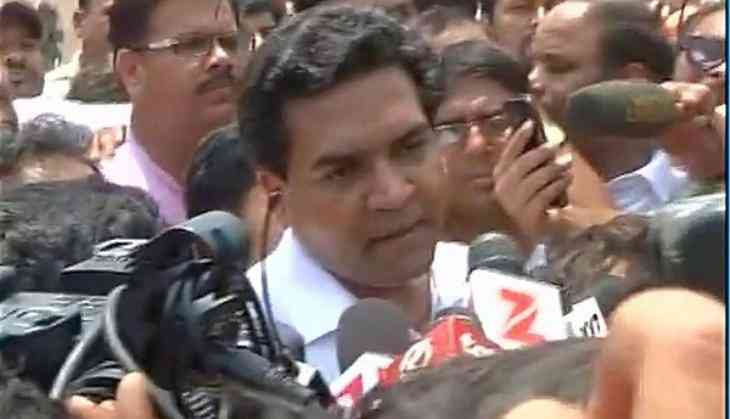 Delhi's sacked Water Minister Kapil Mishra would share all evidence, including that against two close aides of the chief minister Arvind Kejriwal, with the Anti-Corruption Branch on 8 May.
He would be at the ACB office at 11 AM today.
Mishra on 7 May made shocking revelations and claimed he saw Health Minister Satyendar Jain handing Rs. 2 crore in cash to Kejriwal.
Aam Aadmi Party has dismissed his allegations against party chief as "baseless".
Addressing a press conference on 7 May, Mr Mishra claimed he was an "eyewitness" to Mr Jain handing over Rs. 2 crore to Mr Kejriwal.
The Bharatiya Janata Party has called for police action against AAP convener Kejriwal, while Congress has demanded a CBI probe.
Kapil Mishra, the 36-year-old former minister, said he met Lieutenant Governor Anil Baijal on 7 May and revealed all to him.
Today, he would visit the Anti-Corruption Bureau and the Central Bureau of Investigation.
"They must say what was done with the money," Mr Mishra said at the promised tell-all meeting at the Mahatma Gandhi memorial in Rajghat.
"I want to say that I have worshipped Kejriwal, he is my heart... I don't believe the Arvind Kejriwal who is with Satyendar Jain. The day Jain goes to jail Kumar Vishwas will also believe me," Mr Mishra said. He also added that he was not quitting AAP.
"AAP is my party," he said.
He questioned the "inaction" over a report submitted by him to Mr Kejriwal in August 2015 on the alleged Rs. 400-crore water tanker scam during the tenure of the Sheila Dikshit government.
However, the Karawal Nagar MLA did not elaborate whether he would share details on his sensational claim that he saw "Kejriwal taking Rs. 2 crore cash from Jain" with the ACB.
"Why was no action taken based on the report for a year? Who were responsible? I will share details of the involvement of two people who work in official capacity with Kejriwal with the ACB.
"Secondly, several party members have told me that Kejriwal has made up his mind to sack Jain in the next two-three days and preparations are on to get his resignation by Wednesday," he told reporters.
Through his tenure as a minister, Mr Mishra has repeatedly flogged the scam, relating to alleged irregularities in hiring of private tankers to supply water, which he claimed involves Ms Dikshit and even a "few people in the AAP government".
Mr Kejriwal had constituted a fact-finding committee to probe the allegations in June 2015. The report was submitted in August 2015, recommending an FIR against Ms Dikshit.
The then Lt Governor Najeeb Jung had forwarded it to the Anti-Corruption Branch, which in turn had registered FIRs against both Ms Dikshit and Mr Mishra.

- - With PTI inputs