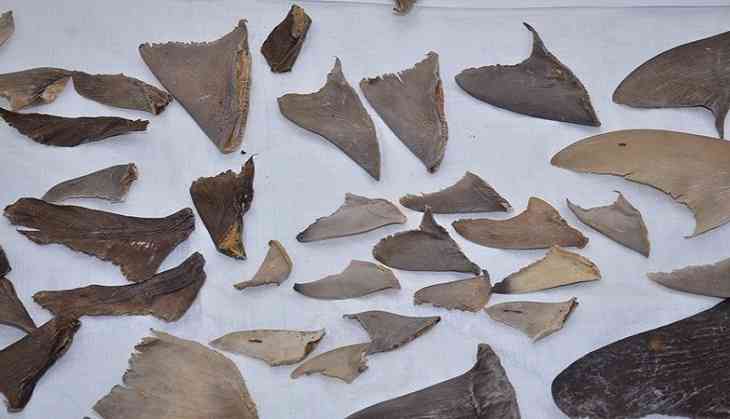 The Directorate of Revenue Intelligence (DRI) has neutralized a smuggling network in Gujarat and Mumbai and seized around 8000 kg of shark fins meant for illicit export. Four persons, including the mastermind, have also been arrested.
Acting on an information, the DRI on September 1, seized 3000 kg of shark fins from a godown at Sewri, Mumbai and 5000 kg from a godown in Veraval, Gujarat.
The shark fins were intended to be illegally exported to China and Hong Kong on the pretext of exports of dried ray skins, dried marine products, fish maw to evade detection.
The Directorate General of Foreign Trade (DGFT) under the Ministry of Commerce has prohibited the export of shark fins of all species through a notification issued in February 2015.
Shark fins are used for preparing a delicacy called the 'Shark fin soup' which is a traditional soup or stewed dish found in Chinese cuisine and Vietnamese cuisine. It is commonly served at special occasions such as weddings and banquets and is considered as a luxury item in Chinese culture. One bowl of Shark fin soup costs over 100 dollars.
In August 2013, Ministry of Environment, Forest and Climate Change (MoEF&CC) has also approved a Policy on Shark fining that prohibited the removal of shark fins on board a vessel in the sea. The policy prescribes that any possession of shark fins that are not naturally attached to the body of the shark would amount to hunting of a Schedule I species.
In September 2014, India became a signatory of Convention of International Trade in Endangered Species of Wild Fauna and Flora (CITES) and listed five more shark species for conservation.
(ANI)