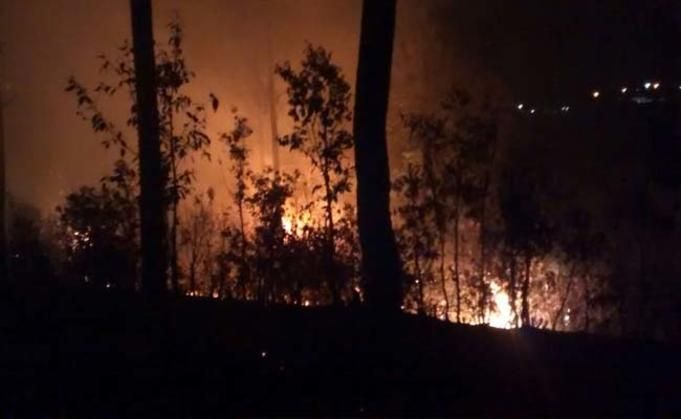 At least 500 firemen have reportedly been deployed to douse a raging fire in the Uttarakhand forest. Governor KK Paul has reportedly decided to increase the strength of the personnel from 3,000 to 6,000.
The decision was among several decisions taken at an Advisory Council meeting chaired by Paul late on Thursday evening to address the problems of forest fires and drought in the state. Five hundred personnel from the fire brigade have also deployed to help in controlling the fires.
In every district, 100 PRD personnel will be posted for the safety of revenue forests. This number may be increased later, an official release said.
The following pictures of the forest fire went viral on Facebook after social media user Ela Smetacek posted it on her Facebook Page at around noon.
It was decided that Rs 5 crore would be released for buying fire control equipment from the SDRF. Tankers will be sent to provide water in wildlife parks and DMs have been instructed to arrange for extra tankers according to the requirement in their respective districts.
All officials concerned have been directed to work under an action plan on a war footing to deal with forest fires and drought conditions. For immediate relief, tankers should be arranged and on a long term basis, traditional water sources should be revived and preserved, it was directed.
All van panchayats, mahila mangal dals, self help groups and yuvak mangal dals must be active and support the efforts to check forest fires. Police and homeguard personnel have already been activated.
The DMs have been instructed that they should immediately provide the compensation amount to families affected by the forest fires.
It was also decided that other departments should also work in coordination with each other to check forest fires and that a strict watch on elements who are involved in illegal felling in forests. Van panchayats and home guards can help in doing this, the Governor said. Any negligence in following the directions given for checking forest fires and for providing potable water will not be allowed, he said.
--PTI